California, U.S.A: Falun Gong Practitioners in Northern California Clarify the Truth at the Annual Taiwanese Cultural Festival (Photo)
(Clearwisdom.net) On May 15, the annual Taiwanese Cultural Festival was held in Palo Alto. It attracted thousands of San Francisco Bay Area residents. Falun Gong practitioners participated in this cultural festival to introduce Falun Gong and to clarify the truth of the persecution to the public.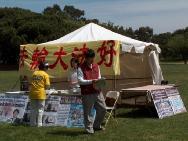 The Falun Gong booth at the Taiwanese Cultural Festival
At the Falun Gong booth, practitioners set up Falun Gong truth-clarifying posters and prepared all kinds of free truth-clarifying materials for the visitors. Upon seeing the posters introducing the lawsuit against Jiang Zemin and exposing Jiang's crimes, many people commented, "Well done. Jiang has done so many bad things, he should be brought to justice."
A number of visitors showed an interest in Falun Gong. Many of them learned the exercises at the booth and purchased Falun Dafa books and cassettes.
An elderly Chinese lady who comes from Beijing took many truth-clarifying materials with her. She said that she knew very well the truth of Falun Gong and the situation of practitioners being persecuted in China.