Sixty-Three-Year-Old Senior Engineer Ms. Chen Guilan Beaten to Death in the Second Labor Camp, Gansu Province (Photo)
(Clearwisdom.net)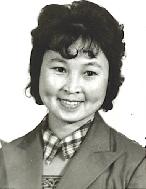 Photo of Chen Guilan
The women's section of the Second Labor Camp in Lanzhou City, Gansu Province detained a Falun Gong practitioner named Chen Guilan on September 25, 2002. Chen was a 63-year-old retired senior engineer from the 213 Factory in the Beidao District in the city of Tianshui.
The weather in Lanzhou City was very windy and sandy that September. People trembled in the freezing wind, but Chen Guilan was wearing only a thin red wool sweater when she was taken to the labor camp. Upon arrival, she underwent a physical examination in the women's section of the labor camp and was then forced to stand by the gate of the clinic. The labor camp requires all newly abducted Falun Dafa practitioners be given physical punishment before they are assigned to their living quarters. She arrived at the labor camp at around 1 o'clock and was forced to stand for about 2 hours until she fell to the ground because of the fatigue after the long journey from her hometown of Tianshui to the labor camp in Lanzhou. She cried out: "You have deceived me. I was told by police at home that they only wanted to talk with me. I went with them but was thrown into a vehicle without any explanation and brought to this hellish place."
That evening after dinner, Chen Guilan was again forced to stand for a long time, this time by Wang Yonghong, the director of the second group of the women's section of the labor camp. In addition, Wang ordered two drug addicts to monitor Chen Guilan to prevent her from putting on more clothes. Chen was so cold that she trembled. Before the assembly at night, a drug addict noticed Chen was trembling because she wore so few clothes. She wanted to give some of her own clothes to Chen, but she didn't dare. Chen wasn't allowed to enter the detention cell until the roll call finished at 9 o'clock at night. She was then thrown into solitary confinement.
At lunch time the next day, witnesses observed Chen being given only half a steamed bread roll under the supervision of the drug addict He Li . She was not seen leaving the cell again except to be escorted to a brainwashing session. After supper the whole group was ordered to gather and was forced to read materials defaming Falun Dafa. Chen Guilan was forced to sit in the first row. One of her legs was held down and her hair was held by drug addict inmate Ma Yan.
Wang Yonghong read the materials and shouted at the Ms. Chen abusively from time to time to see if she was listening and forced her to lift her head to listen. It was obvious from her disheveled hair that she had suffered much torture. It turned out that she had been forced to stand facing a wall for two days and one night and now was sitting on ground breathing heavily. Ma Yan pulled her hair and yanked her head upward while Wang Yonghong grinned hideously.
9 o'clock at night is roll call. Ms. Chen was dragged up from the ground by drug addicts Chen Xiaojun, Ma Yan, Liu Bo and He Li, and others. Wang Yonghong and the group head, Duan Ling, were on duty. Wang Yonghong ordered Ms. Chen to report her number but she was very weak and was breathing heavily. She said in a very low voice: "I have suffered from a heart attack in the past. Now my heart is beating very fast." Wang Yonghong shouted abusively: "Old creature, what are you pretending for? You must report your number even if you don't want to. The ones on duty, you must force her to report her number in a loud voice." Chen Xiaojun, Ma Yan, Liu Bo and He Li then kept on seizing Ms. Chen's hair with one hand and pinching her body with another hand until she cried out her age in a very hoarse and weak voice. Then Wang Yonghong and Duan Ling dismissed the gathering laughing heartily. Chen Guilan was then once again thrown back into solitary confinement.
Wang Yonghong and Duan Ling were afraid that their cruel measures of persecution would become known to other Falun Gong practitioners. In the evening, under the direction of Wang Yonghong and Duan Ling, several prisoners on duty carried Ms. Chen down to the corridor between the yard wall and the detention cells of the second group, where they beat her nonstop. They threatened they would not stop beating her until she wrote a repentance statement (In this statement the practitioner is forced to admit remorse for practicing Falun Gong, promise to give up Falun Gong, and never again associate with other practitioners or go to Beijing to appeal for Falun Gong), and the sound of the cruel beating and the crying of Ms. Chen carried over to the nearby detention cells. At around 2 o'clock in the morning the gate of the women's section was opened and a white ambulance went inside. The head of the Second Labor Camp Wang and the section chief Tian Li (who has now become the head of the labor camp) were shouting loudly and rushing about in the yard. After a while the ambulance left from the gate.
63 year old Falun Gong practitioner Chen Guilan passed away on September 27, 2002, only three days after she was sent to the Second Labor Camp of Gansu Province.
Sources report that Chen Guilan's husband found distinct blue and red bruises on his wife's body when he was ordered to go to the Second Labor Camp to deal with his wife's death. He wanted to take photos of her body, but was forbidden from doing do. Furthermore, the Second Labor Camp did not allow him to move his wife's body to their hometown and cremate it there. In the end, the Second Labor Camp cremated Chen's body.
Work units and telephone numbers of some of those who took part in the persecution are:
Tian Li, head of the Second Labor Camp of Gansu province. Tele: 86-931-7763000
Wang Yonghong, former director of the second group. Tele: 86-931-3351832