Korea: Most Prominent Mainstream TV Station Hosts Positive Special Report on Falun Gong (Photo)
May 17, 2004 | By a Korean practitioner
(Clearwisdom.net) One of the most prominent TV stations, MBC, introduced Falun Dafa in its most popular program, "Life's Many Words" with the subtitle, "Correctly recognize Falun Gong". The host interviewed the president of the Korean Falun Dafa Association, whose life changed completely through the practice of Falun Gong. The interview lasted about 20 minutes.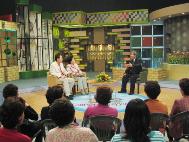 This was the first time that this most prominent mainstream TV station positively reported on Falun Gong after Korean newspapers reported on Falun Gong a while ago.
More than 100 Falun Gong practitioners were invited by the TV station to demonstrate the Falun Gong exercises.
After the program was broadcasted, the host asked many questions about Falun Gong and later expressed a strong desire to practice Falun Gong. The audience also asked for the interviewed practitioner's business card, who quickly ran out of them.
After the program was broadcasted, the TV station received a large number of phone calls requesting information about Falun Gong.
We would like to use this opportunity to sincerely wish for all Korean people to know about the beauty of Falun Dafa.