The Suffering of Children in the Persecution of Falun Gong -- Part 2 (Photos)
(Clearwisdom.net)
(Continued) Part 1 can be found at: http://www.clearwisdom.net/emh/articles/2004/5/1/47604.html
2) The Sufferings of Children Who Dare to Speak the Truth
In its nearly five-year persecution of Falun Gong, Jiang and his followers have attempted to force Falun Gong practitioners to give up their beliefs through both physical and mental torture, and these inhumane practices have even been used on school children. Clearwisdom.net reports from January through March 2004 exposed at least a dozen cases in which school children had been persecuted for speaking the truth.
Wang Zhe, a High School Student from Liaoning Province, Is Expelled for Exposing the Persecution of Falun Gong
Clearwisdom.net reported on Aril 10, 2004, that on February 18, 2004, student Wang Zhe from the No. 1 Senior High School in Changtu County, Liaoning Province clarified the truth about Falun Gong to the teachers at the school regarding the slandering of Falun Dafa practitioners by the director of the political and education department. He was subsequently expelled from school. On April 6, Wang Zhe and his mother went to the school requesting that Wang Zhe be re-admitted in accordance with the law; however, the school headmaster, Sun Yuhui, reported this to the police department. After the report, the deputy party secretary of the county and several members of the national security section arrested Wang Zhe and detained him in a county detention center.
On February 18, 2004, Shan Wu, Director of the Political and Education Department, slandered Falun Dafa practitioners in his speech to a school-wide safety conference at the No. 1 Senior High School in Changtu County, Liaoning Province.
Wang Zhe, a junior in the school, went to the supervisor's office to clarify the truth about Falun Gong that evening. The history teacher, Liu Fucai, was also present. Wang Zhe talked about his own health benefits from practicing Dafa, and in particular, the improvements in his character. He told them about the state-run media's framing of Falun Dafa and Dafa practitioners, and exposed the truth about the government staged Tiananmen self-immolation incident. He told them that Dafa practitioners cultivate according to Truthfulness-Compassion-Tolerance and are prohibited from killing. Wang Zhe told them that what Shan Wu, the director of the political and education department, said regarding Dafa practitioners was not true at all. Wang Zhe said he hoped that the teachers could come to understand Falun Gong objectively and comprehensively so as not to be deceived by lies.
The supervisor, Ms. Zhang Guiyan, was very positive about Wang Zhe as a student, saying that he was studious and had great character. Wang Fucai, the history teacher, said that Wang Zhe was both rational and factual in his discussion. He discussed with the supervisor about reporting these facts to the school. The next day, Wang Zhe's father was asked to come to the school. The school authorities told him that Wang Zhe promoted Falun Gong to the teachers, so the school decided to expel him.
After this event was exposed, many school leaders, family members, teachers, and students were shocked and concerned about the persecution suffered by Falun Gong practitioners. They called for Wang Zhe's return to school. Wang Zhe and his mother went to the school to request his return on April 5. The deputy headmaster, Wang Zheyan, said that he could not make that decision.
Wang Zhe and his mother went to the school again on April 6. Sun Yuhui, the headmaster, said he would report this to the police department. After the school's report, Zhao Ruyan, the deputy party secretary of the county, Liu Jianxin, Sun Guohui, and Ma Hongwei from the national security section, led by Sun Yuhui and Wang Zhiyan, the headmasters of the school, arrested Wang Zhe and detained him in a county detention center.
A Girl in Junior High School in Chenzhou City Is Deprived of Her Education for Promoting "Truthfulness, Compassion, Tolerance"
The following events took place at Heyeping High School in Suxian District of Chenzhou City, Hunan Province. Ai Dan, a fourteen-year old girl, was a student in the eighth grade at Heyeping High School in the Suxian District of Chenzhou City in Hunan Province. She started practicing Falun Dafa in 1998. She was strict with herself and her character improved very quickly.
At a time when social moral standards have been rapidly deteriorating, the Heyeping High School is also very corrupt, and unhealthy tendencies prevail. There are also scandals that cannot bear the light of the day. The educators in the school rely on physical punishment instead of moral teachings. In an effort to be responsible to the school and the students, Ai Dan tried to suggest to the teachers that they change their methods, but no one would listen to her.
In order to encourage people to follow "Truthfulness-Compassion-Tolerance," Ai Dan began to promote Dafa to the teachers and students. By the second semester in 2001 some of her classmates wanted to practice Falun Dafa and were reading Zhuan Falun. One of the classmates who did not know the facts about Falun Gong reported her to the teacher. Afraid of getting involved, the teacher reported her to school authorities. The school's headmaster then reported the issue to the district "610 Office" (1) and confiscated her copy of Zhuan Falun. He yelled at Ai Dan, "How dare you lead other students to practice Falun Gong!" Officials from the "610 Office" immediately came to the school, ordered the students out of their classes and interrogated them.
Ai Dan and the other students were forced to write the so-called "Guarantee Statements," declaring that they were remorseful for practicing Falun Gong, guaranteeing not to practice Falun Gong again, and promising not to go to Beijing to appeal for Falun Gong, or to ever again associate with any Falun Dafa practitioners. Several days later Ai Dan was very upset, and the more she thought about the incident she thought to herself "There is nothing wrong with following Truthfulness-Compassion-Tolerance to be a good person. Nor is it wrong when I hope that my classmates and teachers care about morality and are kind and good people. How could I make a guarantee not to be a good person'" Determined, she went back to the school and submitted a declaration to the headmaster, stating her determination to practice Falun Dafa. The school officials tried to intimidate her, saying, "You have to quit school if you want to practice Falun Gong." Ai Dan replied, "I will practice Falun Gong even if you dismiss me." Ai Dan was then expelled from school.
Ai Dan's parents were heartbroken when they saw their young child being denied an education. They tried everything, including contacting another school, and ended up paying an extra charge of 2,000 Yuan (2) to enroll her in the other school. Finally, Ai Dan was allowed to go to school. Officials from Heyeping Middle School, however, came to Ai Dan's new school to turn people against her, making every effort to prevent her from going to school. This caused her new school to keep her from attending.
High School Student Is Expelled and Jailed, Other Practitioners Arrested
Ms. Zhang Conghui, an 18-year-old student at Xuanhua First High School in Chicheng County, Hebei Province, was "urged to drop out" right before the opening of the "Two National Conferences" [The People's Congress Conference and Political Consulting Conference.] in 2004, simply because she wrote a note to a boy, saying "Please remember Falun Dafa is good." On February 24, Ms. Zhang went to Beijing to appeal for Falun Dafa and was arrested and sent to jail. She was then taken to a brainwashing class in Zhangjiakou City. The authorities threatened to send her to a forced labor camp, which caused her family a great deal of anxiety. This was the second incident in which the local authorities deprived a youngster of the right to a proper education in China. In 2001, they had illegally jailed a 16-year-old female high school student for over seven months.
Zhang Conghui is only 18 years old and still a child. She should be in school. However, she faces loosing her freedom simply because she believes in the principles of Falun Dafa, "Truthfulness, Compassion and Forbearance." She practices Falun Gong, cultivates "Truthfulness, Compassion and Forbearance," has not hurt anyone, and has not violated any law.
Middle School Student Is Arrested for Answering an Exam Question Truthfully; Her Parents Were Beaten
Ms. Wang Lin, a 17-year-old middle school student, lived in Machang, Suileng County, Heilongjiang Province. In July 2002, Wang Lin attended a joint entrance exam for a provincial high school. In the politics section of the exam there was a question defaming Falun Gong. Wang Lin answered the question truthfully stating: Falun Dafa is good, and Falun Dafa is righteous. Later, officials from the Political and Judiciary Committee, police department, and Provincial Education Committee came to arrest her. Wang was forced to leave home to avoid further persecution. Unfortunately her parents were falsely arrested and beaten by personnel from the "610 Office."
In May 2003, Wang Lin was working in Harbin City when she was seized by police and detained in Suileng. The direct orders of the chief of the "610 Office" in Suileng County are to detain her until she turns legal age, then sentence her [in China one can be sentenced only when one reaches 18 years old].
Junior High School Student Huang Jing Expelled from School for Practicing Falun Dafa
Huang Jing, a second-year junior high school student at Yucai Middle School, Chengdu City, was reported by a classmate for clarifying the truth about Falun Gong to students in the school. The school's Political Section tried to force Huang Jing to give up practicing Falun Gong, but Huang Jing would not give in because she firmly believes Falun Dafa to be a righteous practice that teaches people to be good. This past semester, Jing once again clarified the truth about Falun Gong to her schoolmates, but the school authorities forced her to terminate her studies. Now Huang Jing has to look for a school willing to accept her.
Other cases of students expelled from school or sent to brainwashing classes because of practicing Falun Dafa or because their parents practice Falun Dafa:
Li Xinxin is an eighth-grader in the Second High School of Shaluhei Township, Yongji County, Jilin City, Heilongjiang Province. On March 4, 2004 a teacher who was deceived by the propaganda about Faun Gong reported her to the school board for clarifying the truth of Falun Gong to her classmates. As a result, Li Xinxin was expelled from school. Then the Director of the Students' Office, Dong Ming, led the police to where Li Xinxin and her father Li Bailong had moved after leaving their home to avoid persecution. The police confiscated all the Falun Dafa books and materials, and detained Li Bailong in the Yongjie County Detention Center.
Dafa practitioner Chen Si is only 13 years old. She is a student in Junior High School and lives in the residential area of Dongfeng Chemistry Factory, Shuangbei, Shapingba District, Chongqing City. Both her parents are Dafa practitioners, and her mother was illegally sent to a forced labor camp for going to Beijing to appeal for Falun Gong.
During her summer vacation in 2001, Chen Si went to hand out Falun Gong truth-clarification materials and was arrested. Despite her young age she was still punched and kicked by policemen. Chen Si was then sent to Gele Mountain Brainwashing Center in Shapingba District.
Kang Jiaqi, the daughter of Hengshui City Second Middle School teacher, Liu Hongluan, of Hebei Province, used to go to the same school where her mother worked. Jiaqi's father, a Falun Gong practitioner, was detained at a brainwashing center, and her mother left her home in order to avoid being illegally arrested. So the school forced Jiaqi to withdraw from school, and deprived her of an education.
3) Inhuman Persecution Brings Disaster to the Young
Those parents who practice Falun Gong and strive to be good people following the principles of "Truthfulness, Compassion and Forbearance" have experienced the cruelest torture in the persecution of Falun Gong, orchestrated by the Jiang regime. Some of them have even been tortured to death, which resulted in the breakdown of happy families and children having no parents to care for them. Statistics from Clearwisdom.net show that as of May 15, 2004, 955 Falun Gong practitioners are confirmed as having been tortured to death. It is not hard to imagine how many children are suffering pain from the loss of their parents. At the same time, numerous children are suffering hardships after their parents were imprisoned or sent to forced labor camps, were forced to leave home to avoid arrest, were locked up in brainwashing centers or mental hospitals, or lost their jobs. The harm done to these children is beyond imagination. What's more, the very fact that their parents have been persecuted or tortured to death for persisting in their beliefs in Falun Dafa has caused immeasurable damage to social morality.
Four-year-old Rongrong Has Already Experienced Several Separations From Her Parents
Rongrong is only four years old, but she has no mother or father around to care for her. This child of such a young age has already experienced several separations from her parents.
When Rongrong was born in November 1999 her father was not around. At the end of October, her father, Zou Songtao, had gone to the Beijing Appeals Office [A government agency where citizens can report grievances or cases that have been handled improperly by local officials.] to report the true situation of Falun Gong. He was detained as soon as he returned to Qingdao City, and was released in December. Zou Songtao was arrested and released like this several times before eventually being tortured to death. The time Rongrong spent together with her father was less than six months.
In May 2001 Rongrong's mother was sought by police for handing out Falun Gong truth-clarification materials and had to move to other parts of the country to avoid being arrested. As a result, Rongrong had to live with her grandparents since she was age two and a half. However, Rongrong's grandma was over sixty years old and could not withstand the grief of losing her son-in-law and separating from her daughter. She passed away in August, 2001.
Father, mother and grandmother, the three dearest ones to Rongrong had left her in succession. Whenever she missed her loved ones, the four-year-old would climb on to the desk with the help of a stool, and crawl over and kiss the box containing her father's remains. Sometimes she would innocently tell others that her father is in Heaven.
The reason that Rongrong lost the loving care of her father and mother was that her parents wanted to be good people who cultivate "Truthfulness, Compassion, and Forbearance."
Zou Songtao, graduated from Nanjing University and also had a Masters Degree in Biology from Ocean University in Qingdao City. Zou was remarkable in his academic achievements and had a very high moral standard. He was a righteous and kind person.
At four o'clock on the morning of July 22, Zou Songtao was taken from his home and illegally detained in a small hotel for more than a month. After that he was detained many times and was once handcuffed to an iron chair by Gong Guoquan, the Director of the Taixi Police Station in Qingdao City. Gong Guoquan used the sole of a shoe to slap Zou's face until his head swelled to twice its normal size. His face was beyond recognition and covered in blood. He lost consciousness for more than 20 minutes.
In July 2000, Zou Songtao was tricked into going to the Qingdao City Police Department and was immediately sentenced to forced labor. Zou Songtao was detained at the Qingdao City Detention Center until the end of September, when he was suddenly transferred to the Wangcun Village Forced Labor Camp in Zibo City, Shandong Province. On the morning of November 3, 2000, prison guards Zheng Wanxin, Shao Zhenghua, and a few other policemen summoned Zou Songtao to the interrogation room. After more than two hours of mental and physical torture, Zou Songtao died at 11:30 a.m. He was 28 years of age. At this time, his daughter Rongrong was only 11 months old.
Rongrong's mother, Zhang Yunhe, was an accountant at TFL China Limited in Qingdao City (a solely invested German Company). She was a remarkable employee, but because she practices Falun Gong, the company, under duress, suspended her from her job. In May 2001, Zhang Yunhe was discovered to have handed out Falun Gong truth-clarification materials so she had no choice but to leave home to live in other parts of the country to avoid being arrested. There had been no news of her for a long period of time. Later it was said that she had been detained at the Dashan Detention Center in Qingdao City; however, her family has not heard any news about her.
Female Falun Gong Practitioner Wu Lingxia of Shuangyashan City, Heilongjiang Province Tortured to Death, Leaves Behind a Teenage Son
A Clearwisdom.net report of July 23, 2002 showed two photos of Wu Lingxia. One of them was taken before she was sent to the forced labor camp. This photo was taken with her son. From the photo one can see that Wu Linxia was young and healthy and looked very happy. The other photo was taken after she was detained in the forced labor camp. She looked like an elderly person, with a dull look in her eyes. Her arms were skinny and her abdomen looked like a drum because of the edema. She also had edema in her lower limbs and a large area of her left leg was festering. In these two photos she looks like two totally different people.
| | | | |
| --- | --- | --- | --- |
| | Wu Lingxia and her Son before she was sent to the forced labor camp | | Wu Lingxia was abducted and taken to Jiamusi Forced Labor Camp where she was tortured, which resulted in hepatocirrhosis and ascites. She also had festering legs. |
It was learned that Wu Lingxia was arrested in May of 2001 by local police while visiting a fellow practitioner. She was then sent to the Shuangyashan Detention Center, where she was illegally detained for a month. On July 2, 2001 she was transferred to the Xigemu Labor Center in Jiamusi City, where she was severely tortured for long periods of time. This resulted in hepatocirrhosis (liver disease) and ascites (excessive fluid in the tissue of the abdomen). She was sent home after a year-long detention. Thirty-seven-year old Wu Lingxia passed away on July 27, 2002 still holding firm belief in Falun Dafa. Her body had festering scars and she suffered from severe edema. She leaves behind a teenage son and parents in their seventies.
It was disclosed that Wu Lingxia's husband divorced her because he could not bear the severe, continual mental pressure of the police harassment any longer.
Dafa Practitioner Ms. Cui Zhengshu from Jilin City Died from Torture at Heizuizi Female Labor Camp in Changchun City and Left Behind a Young Child
Falun Dafa practitioner Ms. Cui Zhengshu, a Korean national from Chuanying District, Jilin City was taken to Heizuizi Female Forced Labor Camp where she was brutally tortured until she was on the verge of death. Labor camp authorities were afraid of taking responsibility for Cui's imminent death, so they released her on medical parole on April 18, 2003 and sent her home. Cui Zhengshu died on August 12, 2003 and left behind a young child.
Cui Zhengshu's family
Ms. Cui Zhengshu, 36, was a Korean national who lived on Zhihe Street, Chuanying District, Jilin City. She graduated from Baicheng Finance and Trade Training School. In March 2002, enforcers from the Jilin City "610 Office" and Chuanying District Police Department arrested her. She was illegally sentenced to three years of forced labor and sent to the No. 4 Division in the Heizuizi Female Labor Camp in Changchun City. The guards at the labor camp tortured her because she persisted in Dafa practice, and deprived her of sleep. Once they allowed her only 22 hours of sleep in 33 days. When she was extremely weak, had difficulty eating, and could not take care of herself, the guards were afraid that she might die at the labor camp, so they sent her home on April 18, 2003 on medical parole.
Cui Zhengshu suffered unimaginable torment and severe torture, both physically and psychologically. After she returned home, although her family tried their best to take care of her, she eventually died at 9:00 a.m. on August 12, 2003 from her severe injuries.
Falun Dafa Practitioner Zhang Zhuo, an Official from the Leshan Agricultural Department, Sichuan Province, Was Tortured to Death on the Second Day After His Arrest. He Left Behind a Widow and Child
Mr. Zhang Zhuo, 32, graduated from Beijing Agriculture University in 1991. He started to practice Falun Gong in 1996 and was very active in promoting Dafa. He was always smiling, polite, and well mannered.
Zhang Zhuo was an official in the Agriculture Bureau of Leshan City. At about 5:00 p.m. on June 7, 2002, Zhang Zhuo was arrested and sent to the Zhanggongqiao Second Police Station. On June 8, Zhang died in the police station. There was blood on his teeth, bruises on his face, and marks on his neck, indicating he was probably strangled by a rope. When Zhang Zhuo died his son was only 6 years old.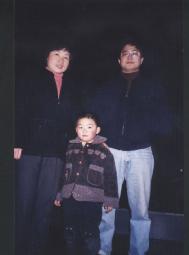 Zhang Zhuo's Family
At about 5:00 p.m. on June 7, 2002, Zhang Zhuo was arrested and sent to the Zhanggongqiao Second Police Station. On June 8, Zhang's wife was summoned to the police station where she was told that her husband was dead. She repeatedly requested to see his body, however she was only allowed to take a brief look from outside the room where Zhang Zhuo's body was placed. She was not allowed to go inside and take a closer look. That day, the managers from Zhang Zhuo and his wife's workplaces were also called to the police station.
It was reported that Zhang Zhuo's family was not notified to come see his body until June 11. They saw his body at the crematorium. His death was so sudden that it was difficult for his family to accept. Although he appeared to have bee strangled by a rope, his facial expression was very peaceful and not frightening at all, which reminded his family of his ever-smiling face with a pair of glasses. People who were present all felt very angry and sad. The police did not give an explanation for how Zhang Zhuo died.
Zhang Zhuo's relatives lodged an appeal to bring the murderers to justice. However, due to extreme pressure from Jiang's regime they have nowhere to turn. Zhang Zhuo's death was not disclosed to his mother for fear she might not be able to bear it. At present, Zhang Zhuo's family is under enormous pressure. They are being tightly monitored by police and they cannot receive visitors. The details of Zhang's death are under investigation.
"The Little Radish Head' of modern times"
Many of those who were brought up in Mainland China are very familiar with the movie the Communist Party used to promulgate about the persecution that occurred during the war years with the Nationalist Party. In the movie a child nicknamed "Little Radish Head" was imprisoned with his parents who were Communist Party members. This character left the audience with a very deep impression. However, fifty years after the Communist Party took over, more stories similar to "Little Radish Head" have occurred.
Two-year-old Baby Boy Holds on to a Steel Fence and Cried, "I Want to Go Home, I Want to Go Home"
On July 21, Dafa practitioner Wang Zideng was working at his home in Laiwu City, Shandong Province when over twenty policemen came to his front door and attempted to break in. After finding that their master key did not work, these officers, without a warrant, ignored warnings from Wang's family and proceeded to violently kick the door open. Amidst the police's roaring shouts, the entire family of six was arrested. Wang's wife and his sister-in-law were wearing only tank tops and shorts. Wang's son and his niece were both only two years old, but they were arrested along with the rest of the family. The police did not even allow the infants to be clothed, and arrested them naked. An officer named Tian Yugang then handcuffed Wang's sister-in-law, who doesn't practice Falun Gong, so tightly that her hands bled. Wang was pushed to the ground by several policemen and handcuffed. All six members of Wang's family were then taken away. Wang's wife told the policemen kindly, "You should not be this way any more, it won't be good for you." Deputy chief policeman Zhang Bingyin said, "Jiang Zemin dies first, then my turn."
After the family was taken to the detention center, Wang's two-year-old son held on to the steel fence and cried very sadly, "I want to go home, I want to go home." His nose also started to bleed. Staff members, and even the prisoners in the detention center were all moved when they heard this child's crying. Some police officers had relatives living nearby who heard the little boy's crying. They came over to see what was going on and asked, "How come this little boy is detained here' Isn't he becoming 'The Little Radish Head' of modern times'" Staff at the detention center repeatedly reported to the city police department that the little boy's nose was bleeding and that his mother had not eaten. They suggested that the boy be released, but their protests were in vain.
Even before this whole ordeal took place, the local government had taken severe actions against Wang Zideng's family because he practices Falun Gong. On orders from the police department, the village committee had cut off his electricity and water. His daughter had just graduated from high school; however, she didn't receive her graduation certificate. When the police went to her school to investigate, the school official told the police, "She is a very good student with very good moral quality. She's also the branch secretary of the Communist Youth League in her class. We can not lie about this." However, the police still overstepped their authority and forced the school official to not issue her a graduation certificate.
It is not unique, but has its counterpart. Yanggu County Police Department of Shandong Province detained a six month-old infant in a detention center together with his grandparents and parents, causing him to live an inhuman life like "Little Radish Head" in the movie.
One-Year Old Child Imprisoned by Lixian County "610 Office"
Lixian County, Qinhuangdao City is one of the places where Jiang's regime uses the cruelest methods to persecute Falun Dafa practitioners. They once were so proud of what they had done that they openly publicized the cruel torture methods that were used. They revealed them to the whole country on China's Central Television.
It is very possible that in present-day China no one would believe that someone would be detained merely for wanting to be good person and for not wanting to renounce one's beliefs. Yet, this miscarriage of justice happened to a family of three, including the husband, wife, and their one-year-old child. All three are being held in prison.
This child's name is Guo Yuetong, the mother's name is Liu Aihua, and the father's name is Guo Yuting. Ms. Liu Aihua has benefited greatly, both physically and mentally, from practicing Falun Dafa. She risked her life so more people could hear the truth. She went with fellow practitioners to Tiananmen Square to unfold banners, and brought her baby along, although it was only 28 days old. Afterwards she was forced to leave home for a year to avoid being arrested.
Upon returning home, the "610 Office" collaborated with the Lixian County Police Department to arrest her. They then sent her to the county detention center and detained her for 23 months. She was subsequently sent to a brainwashing center, where she was held for more than a year. What is beyond understanding is that her one-year-old child had also been detained. After the persecution of Falun Dafa practitioner Liu Aihua and her daughter at the county brainwashing center was made public, they released mother and daughter. This was only possible through intense outside pressure. However they detained the child's father Guo Yuting instead. Mr. Guo could not walk, as his legs had been badly injured from torture.
* * * * *
The above cases are just a drop in the ocean in the five years of the persecution of Falun Gong practitioners. The Jiang regime's persecution of Falun Gong and its policy of eliminating Falun Gong doesn't even spare children! It openly violates Chinese law and international conventions, and illegally takes away young people's rights of freedom of belief and their right to receive an education. How many children have been deprived of a happy childhood and family life during the persecution'
How many family tragedies has this inhuman persecution created' At this time it is hard for us to accurately determine. For the future of the children, the beautiful future of mankind, and justice, the world's people must join hands to put an end to this inhuman persecution.
(1) "610 Office": a bureau specifically created by the Chinese government to persecute Falun Gong. It has absolute power over each level of administration in the Party, as well as over the political and judiciary branches.
(2) Yuan: Chinese currency, the monthly salary for an average Chinese urban worker is about 500 Yuan.