Missouri, USA: Falun Dafa Practitioners Celebrate World Falun Dafa Day in State Capitol (Photos)
May 16, 2004 | By Falun Gong practitioners in Missouri
(Clearwisdom.net) On May 13, 2004, Falun Gong practitioners in Missouri held a celebration at the Missouri State Capitol in Jefferson City to celebrate the fifth World Falun Dafa Day.
| | | | | | | |
| --- | --- | --- | --- | --- | --- | --- |
| | Exercise demonstration | | State senator talks with practitioners in front of poster | | Reading proclamations from mayors of Missouri cities | |
| | | | | | | |
| --- | --- | --- | --- | --- | --- | --- |
| | Kids watching intently | | Kids watching intently | | Picture exhibition "The Journey of Falun Dafa" | |
| | | | | | | |
| --- | --- | --- | --- | --- | --- | --- |
| | Sara sings the song Dedu, which once moved a policeman to tears in Tiananmen Square in Beijing, China | | Dianna made porcelain dolls based on Wang Lixuan and her son, who were tortured to death in Beijing in 2000 | | Falun Gong booth | |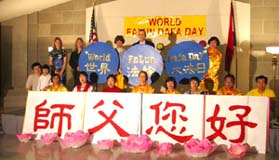 Practitioners send greetings to Master
Since Falun Gong was introduced to the public in the city of Changchun, Jilin Province, China in May 1992, it has spread to over 60 countries, and over one hundred million people have benefited from practicing Falun Dafa.
During the celebration, practitioner Ms. Zeng, who is over 60 years old, performed the dance, Lotus Praise. Her nimble movements and bubbly spirit belied her age. It's hard to imagine that before practicing Falun Gong, she had many illnesses and took medicine continually for over ten years. Shortly after practicing Falun Gong, she fully recovered and never had problems again. In this celebration, she expressed her appreciation to Master and Dafa, and hoped that more people would come to know Falun Dafa.
For this event, Falun Gong practitioners received proclamations and congratulatory letters. The mayor of O'Fallon, Missouri proclaimed May 2004 as Falun Dafa Month, the mayor of Kansas City proclaimed May 13 to 20 as Falun Dafa Week, and the mayor of Florissant proclaimed May 2004 as Falun Dafa Month.
Steadfast Will after Tribulations
Ms. Dianna Effner, an artist from Missouri, displayed her porcelain dolls in the likeness of Falun Gong practitioners Wang Lixuan and her son, who were tortured to death in Beijing in 2000 for peacefully appealing for Falun Gong. For more information about Wang Lixuan, visit http://www.clearwisdom.net/emh/articles/2001/4/5/3534.html.
The death of Wang Lixuan and her son moved Ms. Dianna Effner, who has children and grandchildren of her own. She made this piece of artwork to express her wish to have more people know about the brutal persecution in China and to help end the persecution.
Several members of Ms. Effner's family practice Falun Gong. Her daughter Sara sang a song Dedu with her father's guitar accompaniment. Sara went to Tiananmen Square in Beijing to appeal for Falun Gong in February 2002. She said that her purpose was to tell the Chinese people that Falun Dafa is great and the persecution is wrong. She was arrested and sang the song to the police. One young policeman was moved to tears upon hearing the words, "Be saved, be saved, don't miss this chance again." Sara's song today touched the audience again.
Photo Exhibition and Other Programs
The music and dance performance and the exercise demonstration were warmly received. Senators, staff of state government officials and visitors viewed the performance and talked with the practitioners.
Besides the performance, Falun Gong practitioners also held a photo exhibition entitled, "The Journey of Falun Dafa." They also displayed Falun Gong introductory literature and their hand-made lotus flowers on tables. Visitors stopped by and expressed both their support for Dafa and indignation at the persecution after talking with the practitioners.
The hand-made lotus flowers were very popular. Many people stood in line to get a lotus flower. The flowers are beautiful, but they also have deep meanings behind them. They represent the steadfast will of Falun Gong practitioners who are facing the persecution and bringing the beauty of Dafa to the world's people.
The celebration ceremony concluded in the afternoon. The Falun Gong practitioners also visited State representatives and thanked them for their support in the recent years.