Houston Chronicle Reviews Pulitzer Prize Winning Author Ian Johnson's New Book, Wild Grass (Photo)
April 20, 2004 | Reporter documents three stories of resistance and courage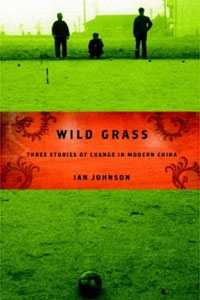 On April 16, 2004, Nayan Chanda, writing in The Houston Chronicle published a book review of Wild Grass, by Ian Johnson, a Wall Street Journal correspondent who was awarded a Pulitzer Prize for his reports on Falun Gong during the beginning of the persecution. The favorable review states that this book offers "a gripping tale of a few very ordinary people and their extraordinary courage in fighting for their rights..."
The report states that the most poignant account narrated by Johnson involves the story of Falun Gong practitioner Chen Zixiu, a grandmother who was tortured to death: "...Chen set out for Beijing to correct her leaders' wrong impression. Arrested, fined and sent back home with a warning not to associate further with the movement, Chen stuck to her principles. Within six months she was found dead in a local prison, with smashed teeth and battered legs. The authorities refused to state the cause of her death. In her battle to obtain a death certificate, Chen's apolitical daughter ended up in jail herself -- with a far better understanding of her country and the cause her mother had died for."
In conclusion, the review states, "Johnson's cloak-and-dagger quest to talk to the victims and his taut, perceptive writing make Wild Grass read in parts like a John Grisham legal thriller. Only here the good guys end up in jail, in the morgue or in self-imposed exile."
Source: http://www.chron.com/cs/CDA/story.hts/ae/books/reviews/2505966