European Practitioners Sing "Coming for You" On the Streets of New York's Chinatown (Photo)
April 19, 2004 | By a European Falun Gong practitioner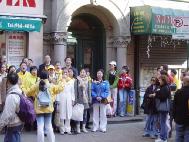 (Clearwisdom.net, April 16, 2004) "Crossing over thousands of mountains and millions of rivers, I came for you over and over again ..."
At nightfall on April 10, 2004, European Falun Gong practitioners' "Coming for You" Choir sang "Coming for You" on a street in New York's Chinatown. After the morning grand parade of 3000 Falun Gong practitioners, many more people in Chinatown have learned about Falun Gong. Many passersby stopped to watch the performance of the choir and warmly applauded to encourage them.
The European "Coming for Your" Choir was formed last November in Berlin, Germany. It consists of more than 80 members from 13 European countries. Most members of the choir are westerners and quite a few had been arrested and beaten for appealing for Falun Gong at Tiananmen Square. The choir was invited to sing "Coming For You" during the first Global Chinese New Year Galas in New York and Paris. Many audience members were deeply touched by their pure hearts.
This is their second trip to New York. This time they sang in Chinese on New York's streets for passersby, especially for the precious Chinese people.
Because many members of the choir couldn't make this trip, it temporarily invited some European Falun Gong practitioners to join. Steffen Munter from Germany had gone to Tiananmen Square to appeal for Falun Gong. He told a reporter: "In China, Falun Gong practitioners cannot have their voice heard, and all Chinese, including overseas Chinese, have very little opportunity to learn the truth about Falun Gong. We have come to Chinatown to sing for them. The song represents the heartfelt voice of all practitioners, and all we want to do is to tell the Chinese people the facts about Falun Gong."
Yida of Korea has practiced Falun Gong for more than 2 years. She said that she was distributing Falun Gong fliers in Chinatown a few days ago and she met many people who didn't know about Falun Gong. The purpose of her participation is to tell more people that Falun Gong is good.
Nearly 30 European Falun Gong practitioners participated in the street performance in Chinatown on April 10 and 12. An Australian, Mr. Solomon, is currently working in Germany. He was also invited to participate in this performance. He said: " I am a temporary member. I joined the choir because it needs more strength. I know this show is very important for the Chinese people because they have been deeply deceived by the Jiang regime's lies. We want them to know the truth about Falun Gong. We have sung at three different locations and many people were very interested. While we were singing, many western practitioners were distributing Falun Gong fliers to tourists, Chinese and Americans alike. Once, two Americans started to sing with us. The whole process of the performance was so pleasant and there were always many people watching us with great interest."