Los Angeles: Why Did the Chinese Consulate Tear Up the Lawn and Replace it With Bushes? (Photos)
April 18, 2004 | By Falun Gong practitioner from Los Angeles
(Clearwisdom.net) On April 10, 2004 a dozen organizations and groups gathered in front of the Chinese Consulate in Los Angeles to hold a "Safeguard Human Rights, Stop Persecution" rally. They were surprised to find a group of workers removing the lawn beside the consulate (exactly where practitioners used to appeal), preparing to plant 2 to 3 foot tall bushes in the lawn's place.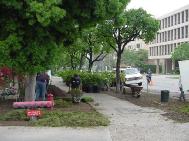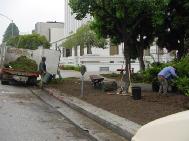 Local Falun Gong practitioners said the Consulate was simply creating obstacles for their appeals, and that this was not the first time the Consulate had done so. In the past, it used to be all grass in front of the consulate. After July 20, 1999 when Jiang's regime started the persecution of Falun Gong, practitioners came to the Consulate to peacefully appeal for an end to the persecution every day. In order to drive away the Falun Gong practitioners, the Consulate tore up two patches of lawn and planted small bushes densely along the edge of the road, and small flowers and trees inside. As a result, the practitioners moved to a patch of lawn a little further up and continued the daily appeal.
Now even this patch of lawn has been torn up and densely planted with bushes. Falun Gong practitioner Ye said that the Consulate's action is hard to understand. People have the right to appeal. Falun Gong practitioners are peaceful all the time; even the policemen and passersby praise their peacefulness. He said that the United States is a free country. The Consulate's action, creating obstacles and trying to deprive the Falun Gong practitioners' right to appeal, is out-of-date and hurts China's image. He continued that the practitioners are compelled to appeal because there are reports from Mainland China almost every day of Falun Gong practitioners being tortured, even killed. Practitioners in China are not allowed to have a voice in China, so practitioners overseas have the responsibility to speak out for them. The appeal will not be interrupted by the Consulate's actions.