Remembering Yang Xueqin
April 17, 2004 | By Lian Zhi, a Dafa practitioner in Mainland China
(Clearwisdom.net)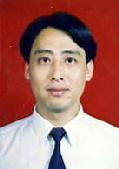 Yang Xueqin
Dafa practitioner Yang Xueqin was a salesperson at the Shanghai Wire Cable Group Company before his death. He was only in his thirties when he was killed as a result of the persecution. I was astonished and felt sorrowful about his ending. A young life with integrity was killed by misguided people. I mention his name frequently when I clarify the truth to the people around me. Many of them listen attentively and with respect upon hearing about the tribulations he suffered as a result of going to Beijing to appeal for an end to the persecution of Falun Dafa practitioners in China.
Yang Xueqin was a volunteer assistant for an exercise site at Shanghai's Jiaotong University. He was calm in temperament, very humble and treated people with kindness. Yang Xueqin spent his spare time organizing group practice of the Falun Dafa exercises, organizing group study of Falun Dafa books and sharing experiences with other practitioners. He also spent a lot of time helping new practitioners like myself, who had lots of questions to be answered. He worked very hard and set a good example, which earned him the respect of other practitioners.
Yang Xueqin paid a lot of attention to his Fa-study and practice. He said, "To do the work of an assistant well, one must strive to become an example in cultivating character. I cannot just do Dafa work and ignore Fa-study and genuine character improvement." During experience sharing, he often said that many human ways of thinking were selfish. When in confusion, he always recalled a relevant teaching of Master's. He would stick to this righteous way no matter how much the old ways of thinking interfered. This touched me deeply. His perseverance in keeping with the Fa appeared as a very solid foundation to me and served as a reminder. I remembered his actions when Dafa was slandered and when he himself suffered persecution. While studying the Fa solidly and striving to improve himself, Yang Xueqin also cared about fellow practitioners' cultivation and lives. For instance, he often contacted me, asking about my situation and pointing out weak areas in my character development that needed to be improved. He shared with me his understanding of Fa principles, helping to resolve many puzzles in my mind. This enabled me to quickly improve my understanding of the Fa. He frequently reminded me to study Dafa and be more diligent. His encouragement for someone who was just starting the practice was a big boost.
Yang Xueqin always strove to improve his character at work or at other times when he was not studying or practicing. He worked very hard for his company, and his fellow employees respected and liked him. In addition to doing his own work well, he also helped with physical work like transporting cargo. The leaders of the company also felt that he was a great person to work with. He did not talk much about himself to others, but whenever he saw someone, he would talk about Dafa, hoping that others could also benefit from it. Whenever he had time, he read Dafa books in the break room. The leaders of the company knew that Dafa was good, partly from his actions.
Jiang's regime began to arrest Dafa practitioners across the nation on July 20, 1999. Yang Xueqin and other practitioners from Jiaotong University went to the government of Shanghai to appeal on July 21. There were more than 1000 Dafa practitioners from all walks of life gathered at the People's Square in Shanghai. The people from the government asked Falun Gong practitioners to select several representatives to go in and talk with the authorities. Yang Xueqin and several other practitioners from Jiaotong University volunteered to go into the government building. The representatives spoke up, hoping that the city government could pass on their request to release all Dafa practitioners arrested on July 20 to the central government.
In the process, however, he attracted the attention of the 6.10 office. [An agency specifically created to persecute Falun Gong, with absolute power over each level of administration in the Party and all other political and judiciary systems.] The police took him away under the pretense of checking his ID just a few minutes after the meeting was over. Since the 6.10 office people noticed that Yang Xueqin was a volunteer assistant and had a strong influence among Dafa practitioners, they intensified the persecution against him. People in his company were also mislead by the false propaganda that was all over the airwaves. In addition, the 6.10 office put pressure on his company. Yang Xueqin sincerely clarified the truth of Dafa and exposed the lies on television to the company leaders when they asked Yang Xueqin to write a guarantee statement renouncing Dafa. The company threatened to fire him under pressure from the 6.10 office.
Despite being pressured after appealing the first time, he still went to Beijing to appeal to the government at the end of July. He thought that he should stand up for justice since Dafa practitioners were being unjustly persecuted. He thought that as more people appealed, the government would listen to the public's opinion. He risked his life to stand up against injustice. This is the compassion of a person with great character who wished to help other people.
The company sent people to pick up Yang Xueqin after the police took him back from his appeal in Beijing. Because of his good performance at work, the company did not fire him. But the company sent one of his colleagues and his family sent his sister's son to accompany him to and from work, saying that they were protecting him. In fact, they were watching what he did.
The 6.10 office tried every effort to persecute Yang Xueqin because he continued to practice Falun Dafa. They sent him to a mental hospital and detained him there for two months. He was forced to take unknown drugs. After he left the mental hospital, the police department sent young policemen to live with him in order to monitor him. He did not feel resentful at all. Instead, he read Dafa books and practiced the exercises in front of them. When he heard that many fellow practitioners were hesitating under the pressure, he managed to escape being followed and met with fellow practitioners. He encouraged them to step forward and told them news about Dafa around the world as found on the Minghui website. Under heavy tribulation, Yang Xueqin walked his path as a Dafa disciple righteously.
One day, I heard that he had been killed. The police from Fangshan in Beijing arrested and persecuted him and others traveling with him. Yang Xueqin and the others jumped from a window in order to escape their unlawful arrest. They were sent to a hospital in Fangshan. The doctors said that he was out of danger. Yang Xueqin called his family in Shanghai, but his family members were not allowed to see him. The policemen told his family members that only they were entitled to take care of him.
He was out of danger and in the process of recovering after the hospital in Fangshan gave him medical treatment. He could talk to people normally. However, he died mysteriously the next morning, after more than ten policemen had come to the hospital and interrogated him throughout the entire night on February 24.
When Yang Xueqin was arrested on February 18, he was busy with preparations for collecting signatures from the public to submit to the Two Conferences that would be held in March. On the night of February 17, he called fellow practitioners in Shanghai from Beijing to discuss how to download and print the forms for collecting signatures. He was suddenly arrested and unable to appeal to the representatives of the People's Congress and the Political Consultation Conference. After Yang Xueqin died, the head of Fangshan police station in Beijing who was responsible for arresting and interrogating Yang was removed from his post.
In addition, the policemen from Xuhui district in Shanghai originally planned to claim that Yang Xueqin "committed suicide" so as to cover their crimes and to slander Dafa. However, they stopped after they discovered through investigating Yang's death that all of his neighbors praised him and that he donated money to Project Hope. (A charitable program to bring literacy to remote villages in China)
Yang Xueqin and his fiancée originally planned to get married at the end of the year. But they chose for him to go to Beijing to safeguard Dafa when Dafa practitioners were suffering from persecution in China. His fiancée was waiting for him to come back to Shanghai to have the wedding. Little did she know that when they parted, that would be the last time she would see him alive.