Falun Gong Practitioners Invited to Address UN Seminar on the Lack of Freedom of Belief in China (Photo)
April 16, 2004 | By Falun Gong practitioners in Europe
(Clearwisdom.net) On April 13, 2004, during the 60th session of UN Human Rights Commission Meeting, the Organization of International Beliefs held a seminar on the lack of freedom of belief in China. Representatives of Falun Gong practitioners were invited to attend and talk about the Jiang group's brutal persecution of Falun Gong in China.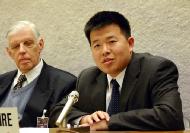 Representative of Falun Gong practitioners Mr. Chen Gang gives a speech at the seminar
A representative of the Falun Gong practitioners, Mr. Chen Gang, told of the persecution imposed upon him both physically and mentally in China for practicing Falun Gong.
He lived in Beijing. His home was ransacked twice due to his practice of Falun Gong. He was held and tortured at Beijing's Tuanhe Forced Labor Camp for 18 months.
While being held in the Tuanhe Forced Labor Camp, the guards and inmates once deprived him of sleep for 15 days and nights, tied his hands and feet together and threw him under a low bed. He was almost paralyzed because of this torture, and he on the verge of a mental collapse. He said he succumbed because his body could no longer withstand the inhuman torture and abuse. This destroyed his dignity and confidence. He even thought of committing suicide because he had lost hope for himself. The Jiang group's destruction of people's belief is the most inhumane aspect of the persecution. But in his despair, Falun Gong saved him once again. In the end, he said, "Let's try our best, the righteous will definitely win."
Falun Gong practitioners also played an award-winning film "False Fire," to allow people to see clearly how Jiang's followers staged the self-immolation incident on Tiananmen Square to frame and incite hatred against Falun Gong.
The host of the seminar raised two questions for discussion: Why the persecution of freedom of belief can occur in China and how to stop this persecution with people's efforts.
A human rights worker from the Organization of World's Citizen in Denmark believed that China has no spiritual belief and is very materialistic. The person in power attempts to absolutely control the people with material benefits, but people's spiritual aspirations cannot be controlled by the government.
Australian painter Ms. Zhang Cuiying said she would file a lawsuit in the UN against Jiang Zemin. This can help stop the persecution of Falun Gong practitioners, and also help other groups and individuals who are suffering persecution.
International Christian Association representatives and representatives from the Bureau for Tibet were also invited to attend the seminar. They presented the facts of the religious persecution against the members of the Chinese Family Church, the underground church and Tibetan Lamas in Mainland China.