Germany: CHAM Newspaper Reports on the Persecution of Falun Gong (Photos)
(Clearwisdom.net)
According to the report in CHAM, a German newspaper, unbelievable things have happened on the streets of China since July 1999. Countless people were arrested across the country for practicing a peaceful traditional meditation exercise. Bulldozers piled up thousands and thousands of books, video and audiotapes and policemen set them on fire. This is what Falun Gong wants to tell you. To clarify the truth and to help people learn more about Falun Gong, Falun Gong practitioners held a photo exhibition at the university.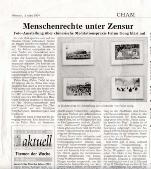 Falun Gong (Falun Dafa) is a Qigong exercise and has a long history in China. It also has many practitioners in the west. Since Mr. Li Hongzhi started teaching Falun Dafa in 1992, it has grown to about one hundred million practitioners worldwide. This cultivation practice has five sets of health-benefiting exercises. Its principles are "Truthfulness, Compassion and Forbearance."
Jiang Zemin, the former Chairman of China, banned the exercise. If someone admits practicing Falun Gong, he may lose his job, be tortured physically and mentally, even to death. The death cases were categorized as "accidents" or "suicides." It was said that one fourth of the nation's resources is spent on eliminating this movement.
With the support of many ethnic groups, international help and human rights organizations, representatives of western countries are more and more concerned with this problem. Amnesty International calls for an end of the inhuman treatment of Falun Gong practitioners. Lawsuits have been filed against the Chinese leaders responsible for the persecution. Falun Gong practitioners from all over the world continue to go to appeal in China, even under tremendous risk.
Besides their weekly exercise class at the People's School and introduction to Falun Gong and signature collection in front of the City Hall, Min Teng-Schwager organized a photo exhibit, "Falun Gong -- A Peaceful Journey." More than forty photos tell the history of the Falun Gong movement, its spread since 1992 and protests against the persecution all over the world.
Falun Gong started worldwide photo exhibits in 2001. The first photo exhibit in Germany was held in Berlin, followed by Wuppertal and Marburg. These photos are now on display at the People's School from 8 a.m. to 12 p.m. and from 1 p.m. to 5 p.m. It has been supported by Amnesty International and the International Human Rights Association.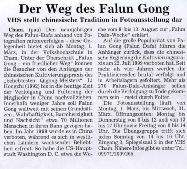 According the report in CHAM on Feb. 28, the People's School will host a photo exhibit "Falun Gong - A Peaceful Journey" starting from March 1. It will provide a good opportunity for you to review the twelve-year journey of Falun Dafa. Visitors will learn about the Chinese cultivation practice taught by the most popular Qigong master, Mr. Li Hongzhi and about the persecution of Falun Gong practitioners in China. Within a few years, Falun Gong attracted 70 million people with its principles of "Truthfulness, Compassion and Forbearance." It was banned in China in 1999, but it has gained more and more popularity in western countries. Washington, D.C., the capital of the U.S., recognized Falun Gong with "Falun Dafa Week" for the week of Aug. 9.
Reports revealed that Falun Gong practitioners under persecution in China have been cruelly tortured, sent to forced labor camps and beaten. More than 925 Falun Dafa practitioners have died from the persecution, mostly from torture.