Siping City Police in Jilin Province Admit they Tortured Ms. Dai Chunhua to Death (Photo)
(Clearwisdom.net)
Ms. Dai Chunhua, a thirty-four-year-old Falun Gong practitioner, was a nurse at the First People's Hospital in Lishu County of Jilin Province. On February 19, 2002, she was arrested by police from Siping City, and detained at the city's detention center. Twenty days later, she was tortured to death.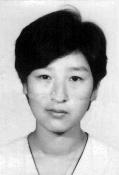 In December 2000, Dai Chunhua went to Beijing to appeal and was sent back to her local detention center. After going on hunger strike for one week, she was released. In January 2002, while publicly distributing materials that explained the facts of the persecution of Falun Dafa, she was arrested by authorities of the Kangping Police Station in Lishu County, but was able to escape using her wisdom. On February 4, 2002, Falun Dafa Day in Siping City, she and another practitioner were arrested while distributing truth-clarifying materials at Shanmen, a suburb of Siping City. On the way back to Siping City, she and her fellow practitioner jumped out of police car and escaped again.
On February 19, 2002, while working on truth-clarifying materials, Dai Chunhua was arrested by police, who destroyed the truth-clarifying materials production site and sent her to Siping City Detention Center. She went on hunger strike to protest her illegal detention and was thus cruelly tortured. Twenty days later, on the morning of March 9, she was tortured to death. After her death, it was discovered that on her corpse, there was a puncture mark at her collarbone, and her breasts were full of punctures that were apparently a result of piercing with some sharp metal objects. Moreover, her back had turned purple and red with bruises. Surprisingly, the police department of Siping City acknowledged that they tortured her to death, and therefore the police department paid the funeral expenses. In many cases, the police do not admit responsibility and grieving families are forced to bear the funeral expenses.