Taiwan: Falun Dafa Seminars at a Government Institution (Part 4) (Photo)
April 10, 2004 | By a Taiwan Falun Gong practitioner
(Clearwisdom.net) Following the warmly received first three lectures of "Healthier Staff Campaign--Falun Dafa Lecture Series" in the Taiwan Central Administration Building, Dr. Qiu Yannan of the Psychology Department of National Taiwan University and Ms. Zhu Wanqi, an attorney from New York, gave the last lecture of the series. They gave an analysis of and shared ways to reduce anxiety and stress in everyday life based on their experience and talked about the changes in their lives since they had started practicing Falun Gong.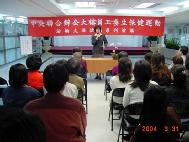 Falun Gong practitioner, Ms. Zhu Wanqi, shares her experience of practicing Falun Gong.
Ms. Zhu's lecture topic was "How 'Truthfulness, Compassion and Forbearance' Changed My Life." She provided her personal testimony supporting Dr. Qiu's lecture and offered her prescription for a relaxed body and peaceful mind.
It is hard to imagine this energetic attorney used to be quite ill. Before she practiced Falun Gong, she could not stand for five minutes before bending in pain. Falun Gong had made it possible for her to regain good health and in turn have a good career.
Ms. Zhu also gave her personal account of the "9.11" attack. She said she had been able to remain calm in the hour of peril because she had been applying the principles of Falun Gong in her life. Her friends were very impressed with her calmness. Since the terrorism attack, they have been suffering depression and couldn't find the right medicine for it.
Ms. Zhu compared Falun Gong to a miracle. If everyone could apply "Truthfulness, Compassion and Forbearance" in his life and experience the goodness of Falun Dafa in person, he would enjoy a good health. The society would be in harmony.
One hour and a half flew by quickly. The audience was fascinated and forgot the time. But they didn't forget to take some materials with them and asked about exercise teaching before they hurried back to work.
The Falun Gong Lecture Series from March 8 to April 2 has given a further understanding of Falun Gong to the staff in the Taiwan Central Administration Building and others. People really appreciate it.
A lady who comes to do business with the Welfare Department every week attended all four lectures. She thinks Falun Gong is a great cultivation practice and is determined to learn it. Those staff members who were not able to attend the lectures asked if there were any recordings. Some sent their colleagues to the lectures so that they would bring back information.
After each lecture, people flocked to the information booth to ask, "Where can I buy a book? Where can I find an exercise site?" It was such a successful activity. We believe many of them will join Falun Gong cultivation after learning more about Falun Gong through these lectures. Falun Gong will certainly bring them good health, a carefree mind and harmony in their work and lives.