Country Church in Georgia, USA Expresses Its Support for Falun Gong Practitioners That Are Being Persecuted in China (Photos)
March 29, 2004 | By a Falun Dafa Practitioner from Georgia
(Clearwisdom.net) More and more Americans have become aware of the persecution of Falun Gong going on in China, and many kindhearted Christians are expressing their concerns and support. This is a report from a country church in Georgia.
In August 2003, the members of the church heard the story of Lu Chaohui, a Chinese American living in Atlanta, and his wife Zhou Xuefei, who was jailed and cruelly tortured in China. For the past eight months, they prayed for her and all Chinese practitioners being persecuted at every Sunday service.
While presiding over the Sunday worship, Pastor Ray Walster said, "Let's pray for our friends who are persecuted in China. We shall not give up our moral and spiritual support for them because we are living comfortably.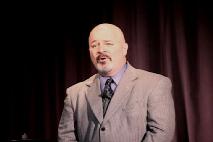 Pastor Walster: Let's pray for our friends being persecuted in China.
In an interview with a reporter, Mrs. Beth Berkman, a member of the church, said that she was very happy to know that Zhou Xuefei was released from illegal detention. She hoped the persecution in China would end immediately. She emphasized that no government should deprive its people of the freedom of belief.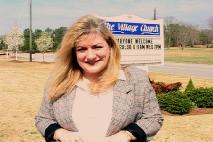 Beth Berkman: No government should deprive its people of the freedom of belief.
Commenting on the fact that Chinese Falun Gong practitioners have endured nearly five years of brutal persecution, that they have sacrificed a lot for their belief in Truthfulness- Compassion-Tolerance but have never resorted to violence and hatred against the police and government officials who persecuted them, another church member said that the Falun Dafa practitioners being persecuted in China are worthy of respect.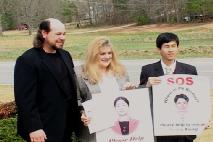 The Berkmans and Falun Dafa practitioner Huang Wanqing
Mrs. Berkman said that the church will continue praying for Chinese practitioners in China, including another Georgia practitioner, Dr. Huang Wanqing's younger brother Huang Xiong. Because he practices Falun Gong, Huang Xiong was abducted by the authorities and has not been heard from for one year.