Australian PhD Exerts Himself to Rescue His Elderly Sister Who Suffered Tremendously from the Persecution in China (Photo)
(Clearwisdom.net) Minghui reporter Zeng Wenyuan reports: Ms. Zhang Yaping was once a mother full of energy and vitality, and had a happy family. For photocopying Falun Gong related truth clarification materials in China, she was arrested and suffered all kinds of tortures in prison. Right now, as a result of persecution, she has become emaciated, too sick to work. Her brother Dr. Zhang Youlai, who is currently living in Australia is traveling around to appeal to rescue her.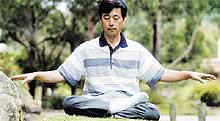 Dr. Zhang Youlai plans to appeal in Canberra to raise people's awareness of Falun Gong practitioners' plight in China
The Illawarra Mercury (Australia) reported on March 15, 2004 that these photos show a story that Zhang Yaping is too damaged to tell.
The report said that the first photo, taken just four years ago, shows an active mother, who had a good job cooking in a restaurant and earned money to care for her family. The second photo was taken a few weeks ago, showing a gaunt faced woman with her hair cut in prison style, turning grey. It is the face of a woman, too sick to work, with the mind of a child, who only recently was on the brink of death.
The report said that Ms Zhang' s brother Zhang Youlai will travel today from Wollongong to Canberra to appeal in front of Parliament House. The morning meditation is designed to publicize the plight of practitioners in China.
Ms. Zhang has served just a few weeks of a seven-year sentence imposed in 2001. Authorities have twice freed her after hunger strikes because they were convinced she was about to die. Now, she is back home with her parents in Shenyang City in the north-east of China but must return to jail in August to complete her sentence.
Dr Zhang is convinced that imprisonment will kill her. The report cited what Dr. Zhang said, "If she is to go back to jail in August, it will be terrible. Last time she went, it was just for one month and she nearly died."
He said, "My sister used to have a very happy family. They all enjoyed life and are responsible in their jobs and kind to others. Now she cannot tell what happened to her in jail. Nobody knows what happened to her."
The report pointed out that Falun Gong practitioners hope for action at the United Nations Commission on Human Rights which will convene in Geneva today, chaired by Australia's UN Ambassador Mike Smith.
In a six-week session, the commission will review its efforts to end human rights abuses around the world including religious intolerance, torture and disappearances.