WOIPFG Requests Expulsion of Persecutors from Shijiazhuang City Visiting Edison, New Jersey (Photos)

Deputy Secretary of Shijiazhuang City Communist Party Committee Li Zunying
(Clearwisdom.net) A delegation of 7 people from Shijiazhuang City, Hebei Province, China led by the Deputy Secretary of Shijiazhuang City Communist Party Committee Li Zunying visited Edison, New Jersey, the sister city of Shijiazhuang. The delegation will also visit Washington DC and Detroit, Michigan.
Before the visit of the delegation, Mr. John Jaw, Chairman of the World Organization to Investigate the Persecution of Falun Gong (WOIPFG), wrote to Mr. George A. Spadoro, Mayor of Edison, to expose the facts of the persecution committed by Mayor Zang Shengye and Director Zhang Tieli of the Department of Public Security, Shijiazhuang.
In the letter, Mr. Jaw stated that during the last four and a half years, Shijiazhuang is one of the cities in which Falun Gong practitioners have been cruelly persecuted. An investigation has revealed that Mayor Zang Shengye has played an important role in the persecution. Mr. Jaw said that those persecuting Falun Gong cannot escape punishment for their crimes.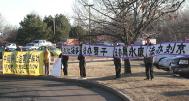 Falun Gong practitioners hold banners to call for an end of the persecution
On February 23, WOIPFG released a statement describing how the Deputy Secretary of Shijiazhuang City Communist Party Committee Li Zunying participated in the persecution of Falun Gong. The Provincial Law Education and Training Center under Li's jurisdiction is a brainwashing center that attempts to force Falun Gong practitioners to renounce their belief. Physical and mental torture, and even fatal beatings have occurred in such brainwashing centers. Thus, WOIPFG sent a letter to the Department of Homeland Security, requesting the expulsion of Li Zunying because of his egregious human rights record.
On February 23, over 20 Falun Gong practitioners held banners reading, "14 Falun Gong Practitioners in Shijiazhuang Persecuted to Death", "Stop Persecuting Falun Gong" in front of the Edison City Hall so that the Shijiazhuang delegation would see their peaceful appeal.