Australia: Falun Gong Practitioners in Melbourne Participate in National Day Celebration Activities (Photos)
(Clearwisdom.net) On January 26, the Australian National Day, Melbourne Falun Gong practitioners were invited to participate in the celebration activities of the cities of Greater Dandenong and Kingston. The practitioners' performances were highly commended by the communities. The National Day event organizers of Greater Dandenong invited the practitioners to participate in this event again next year; they also promised to provide practitioners a double-spaced booth so that they will have more space to demonstrate Falun Gong.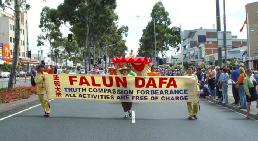 Practitioners' procession
| | | |
| --- | --- | --- |
| | | |
| The lotus boat and Fan Dancing | Falun Dafa banners and red silk cloth dance | Attire from Tang dynasty |
Greater Dandenong is located southeast of Melbourne, and is the largest multi-cultural community in Victoria Province. There are many Chinese immigrants here--one out of 5 people is Chinese. The Mayor of Greater Dandenong, Mr. Kevin Walsh, said that he was pleased to see the Falun Gong group participating in the parade as usual.
This is the fourth time practitioners have participated in the National Day parade and other celebration activities of Greater Dandenong, and they have become an important part of the city's largest holiday celebration. This year practitioners' procession included a Tang Attire Show, a Lotus Boat, Fan Dancing and Red Silk Cloth Dancing teams, as well as Falun Dafa banners and flags. Practitioners danced gracefully to the melodious "Pudu" and "Falun Dafa Hao", while from time to time spectators on the sidewalks applauded to show their appreciation. A 4-year old little practitioner in a pink Qipao (traditional Chinese attire for ladies) who was closely following the procession at the end looked so cute that an elderly lady called her a "Chinese Princess."
The organizers of the celebration said that practitioners' elegant dancing and peaceful energy field impressed them deeply. They asked practitioners several times whether practitioners would attend next year. The organizers also proposed to arrange a double-sized booth for practitioners for Falun Gong exercises demonstrations and other performances.
After the parade in Greater Dandenong, some practitioners rushed to Kingston to participate the celebration activities there.
Though the scale of Kingston's celebration event was relatively small, practitioners have been invited to this event every year. The young practitioners played a leading role in this year's performance. They performed the five sets of exercises of Falun Gong, Lotus dancing, bell and drum dancing on a stage located in the center of the meeting place. Practitioners had two booths and both were very close to the center.
The practitioners said that they have been celebrating National Day with local officials and residents every year, and Falun Gong has become an integral part of the community. Practitioners hope that local residents will take the opportunity to learn the truth about the persecution, and that the beauty of Falun Dafa and the value of "Truthfulness-Compassion-Tolerance" will take root deep in people's hearts.