German Media Pays Attention to the Persecution Suffered by Falun Gong Practitioners in China (Photo)
(Clearwisdom.net) The suffering of Falun Gong practitioner Ms. Xiong Wei in China's forced labor camp has aroused the German people's attention to the persecution experienced by Falun Gong practitioners in China. German media outlets successively reported on the persecution that is happening in China as well as the efforts of supporters outside of China in rescuing persecuted Falun Gong practitioners.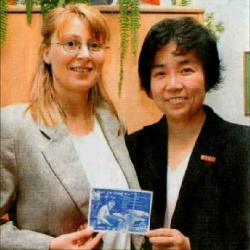 Postcard designed by a warm-hearted person for the rescue of Ms. Xiong Wei
According to a report from Boulevard Baden Times on October 31, a 34-year-old Chinese woman related her experience in China's forced labor camp: "During a two week "reeducation class," the reeducation assistants beat and kicked me."
The Karlsruhe Branch of the International Society for Human Rights continuously condemned China's human rights violations. In September, the group conducted an event to raise awareness of human rights issues. The event was a "Jog for Human Rights." This week in Karlsruhe, Ms. Xiong Wei recounted her personal experience.
Xiong Wei was a student in Berlin. Upon her return to China, she tirelessly distributed flyers and explained the persecution of Falun Gong practitioners in China until she was arrested and locked up in one of Beijing's "slave labor camps" in January of 2002.
This week, during a visit to Amnesty International, Ms. Xiong revealed that twenty women were held in a cell of fifteen square meters. "The daily agenda included beatings, humiliation and physical abuse."
Joschka Fischer, Germany's Foreign Minister, pleaded for her freedom during his visit to China. Ms. Xion'g main priority, since her release and return to Germany, is the continued clarification of the facts about China's human rights violations.
Heilbronner Stimme and Hohenloher Zeitung reported on November 2 that Ms. Xiong Wei was detained in a Chinese labor camp for two years. Following that, she was put under house arrest for several months. She was released only after protests from her many friends and supporters abroad. On Friday, she arrived in Öhringen to meet with friends who have helped her.
"I am very grateful that so many people have supported me. The protests from Germany had an especially good effect," said the thirty-three-year-old who was studying Economic Engineering in Berlin. Xiong Wei says, "In China, Falun Gong has turned into a grassroots movement and is regarded as a threat by the government." She was taken to a women's labor camp without trial, where she regularly suffered torture intended to "reeducate" her. Hearing about her arrest, her brother turned to the public with the help of the International Society for Human Rights (IGFM). They managed to collect more than 40,000 signatures, write support letters and inform the media about Xiong Wei's situation. They also informed the federal government about her plight. Thus, the Chancellor personally wrote a letter to the Chinese President pleading for Xiong Wei's release.
Öhringen resident Annett Munter went to Beijing to lodge a personal protest against the persecution of Falun Gong. On this trip, she became acquainted with Chinese police batons. Among friends at the welcome party she handed Ms. Xiong a picture she had painted on the occasion of her release. Xiong Wei says, "I would like to just lead a normal life but I certainly do not want to return to China for a while."
Source: http://clearharmony.net/articles/200412/23512.html;