"Truth, Compassion, Forbearance" Art Exhibition Hosted by MIT (Photos)
December 22, 2004 | By Yue Ran, Minghui Staff Writer
(Clearwisdom.net) On December 16-19, the world famous Massachusetts Institute of Technology hosted a special event, the "Truth, Compassion, Forbearance Art Exhibition." The exhibition has a total of 33 western oil paintings, Chinese-style paintings and status created by a group Falun Dafa practitioner artists. The Secretary of Commonwealth Mr. William Galvin, Senator Susan Tucker, Senator Richard R Tisei, and House Representatives Karen Spilka and Mark Falzone issued proclamations to Mr. Li Hongzhi and Falun Dafa. Artists Wang Weixing, Chen Xiaoping, Fan Hong, and Wang Zhiping came to Boston to congratulate the exhibition and introduced their paintings to audiences.
Art gallery
Different from previous art exhibitions that exposed China's Jiang regime's persecution, this exhibition illustrated other sides of Falun Dafa including anti-persecution activities and cultivation. Among them, the "Spinning the Great Law Wheel," "War Between Righteous and Evil," "Vow," "Sounds from Drum of Law," and "Pure Lotus Flower" were exhibited for the first time.
The guide and audience
Painter Fan Hong talked about her experiences of creating the paintings, "I feel every painting is a direct illustration of the thoughts of the painter as a cultivator. It displays the understanding of Truth, Compassion, Forbearance and the belief in God. As for myself, the exhibition included two of my paintings, both using the Chinese detailed drawing style. Chinese style paintings focus on the ''Shen Yun,'' so the character paintings are trying to show the person's inner thoughts and mental status. After joining the 'Truth, Compassion, Forbearance' painting project, I understood it completely. Before, I used to paint the characters with details to show pretty figures and clothing, but the mindset of the character was unsettled."
"After the persecution started in 1999, I experienced tribulations while appealing, including detention, being jailed, and escaping to safety. Especially after making the life-and-death choice, my heart was sublimated, and so my art became more sublimated. I feel that it was a most beautiful thing that Falun Gong practitioners refused to betray their conscience in face of violence and torture, and they still think about others, and use compassion to melt evil. At that moment, the expression and mind was most beautiful. So my art strives to express the pure compassion and great forbearance of Falun Gong practitioners. I think it is also the reason that many people were moved by the paintings."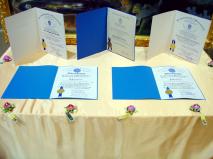 Proclamations from the Secretary of Commonwealth William Galvin, Senator Susan Tucker, Senator Richard R Tisei, House Representatives Karen Spilka and Mark Falzone