Parents Who Lose Children Because of the Persecution are Living Witnesses to the Party's Lie, "This is the Best Period of Human Rights in China's History" (Photos)
(Clearwisdom.net) Children who lose their parents are orphans, men who lose their wives are widowers, women who lose their husbands are widows, but there is no word to describe parents who lose their children. Someone says it is because there is no word to describe the heartache of losing a child.
Countless Chinese parents have suffered this indescribable heartache as a result of Jiang and his faction's persecution of Falun Gong. The persecution of Truth-Compassion-Tolerance was carried out and is still being carried in 31 provinces, autonomous regions and municipalities. According to a report from December 10, 2004, in the past five years at least 1,157 Falun Gong practitioners have died from torture. Their average age is 46 and many of them left behind young children and elderly parents. The persecution inflicted a tremendous disaster upon the Chinese people.
The Party has always falsely claimed, "Now is the best period of human rights in Chinese history." When the World Human Rights Day was coming (December 10, 2004), let us examine this statement through live examples:
Elderly parents witness the brutality of genocide

On April 19, 2004, several elderly men and women stood in a street in the Qiaokou District, Wuhan City and held up the photograph of Falun Gong practitioner Ms. Huang Zhao who was tortured to death. They cried as they told the public how Huang Zhao was beaten to death because she practiced Falun Gong. Huang Zhao's mother screamed, "God! How did my daughter die!" After Huang Zhao's death, the Street Party Committee gave her family 30,000 Yuan, telling them to keep silent. Huang Zhao's mother said while choking back tears, "I want to tell everyone that my daughter was innocent and she was beaten to death."
Liu Chengjun, a 32-year-old Falun Gong practitioner from Nongan County, Changchun City who participated in tapping into the TV system was arrested and brutally beaten with wooden clubs the size of one's thigh; he was tortured with Tiger Bench for 52 days. Then he was immobilized on the Death Bed. His legs were disabled from beating and he could not walk. After being tortured for 21 months, Liu Chengjun passed away on December 26, 2003. His eyes were open when he died. In a callous manner, the enforcers arbitrarily cremated the body. Upon hearing the news of his son's death, a large bubble quickly developed in his father's throat that blocked his airway. His mother fainted repeatedly from overwhelming grief.
Falun Gong practitioner Meng Xiao was a 37-year-old employee/division head of the Chengdu Steel and Iron Factory. After being savagely tortured, force-fed, tied up and injected with poisonous drugs, Meng Xiao died between January 8 and January 12, 2004 in Jintang County, Chengdu City. Her body was covered with bruises and scars at the time of her death. Her body was cremated without her family's knowledge. When hearing the news, her father became paralyzed and her mother had a nervous breakdown.
In late 2003, practitioner Li Ying's mother knelt in front of the Fushun City People's Congress in Liaoning Province. She cried and told how her daughter Li Ying was tortured to death within two days and her body was covered with wounds. The family told Li Ying's son that his mother died from illness, because the real story is too much for the young child.
In October 2000, local police beat to death practitioner Xie Guiying from Chenjiagang, Wanhuaitian District, Anhui Province. Her mother Xin Gonghua, in her 60's, tried to file a complaint on her daughter's behalf, but the public prosecutor's office and the court rejected the lawsuit. She told everyone her daughter's story in the market, in residential areas, in the streets and to strangers.
Police beat to death 29-year-old Falun Gong practitioner Wu Jingxia from Fangzi District, Weifang City, Shandong Province. Wu Jingxia's parents were devastated. They wrote a petition in which they asked that persons responsible for Wu Jingxia's death be brought to justice and delivered the statement to Weifang City's Police Department. The person in charge at the police department said, "You'll definitely win this case, but if you win, we'll all lose our jobs." They denied the statement. Wu Jingxia's parents live in anguish.
On October 28, 1999, practitioner Cai Mingtao served as an interpreter for the Falun Gong Beijing news conference, the first international news conference held by Falun Gong practitioners in China. He was arrested and cruelly tortured, and was additionally hung up for over 20 hours. He died on October 4, 2000. His parents, who are not Falun Gong practitioners, shouted at his funeral, "Falun Gong practitioners are good people! They are good-hearted people!" "My son didn't do anything wrong by going to Beijing to appeal; the government is wrong to persecute Falun Gong." "I'm proud of having such a good son." "I lost an outstanding and beloved son, and you lost a fellow practitioner, all because of this persecution."
... ...
It is difficult to estimate how many elderly people have lost their sons and daughters to this persecution that has lasted for over five years. Some elderly people have difficulty taking care of their orphaned grandchildren, and some elderly passed away from tremendous grief.
Bearing grief for losing sons and daughters, and taking care of orphaned grandchildren with great difficulty
Practitioner Chen Chengyong was tortured to death by perpetrators from the Guangdong Provincial government. His father was dying from uremia, even after exhausting all medical treatments. He miraculously recovered after practicing Falun Gong. He passed away from extreme grief after his son Chen Chengyong died from torture and his daughter, also a Falun Gong practitioner, was illegally sentenced to prison.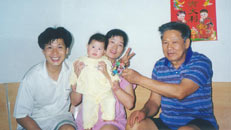 The person on the left is Chen Chengyong, and person on the right is his father
Practitioner Luo Zhixiang from Guangzhou City was tortured to death on December 4, 2002 after she was arrested. Perpetrators were from Tianhe District's "610 Office," Guangzhou City. Luo Zhixiang's husband Huang Guohua was tortured at a labor camp. After his release, the perpetrators from the "610 Office" tried to arrest him again and kill him. He escaped to Thailand. His parents Huang Dianqing and He Guangrong live in a dark and dilapidated mud brick house in impoverished Linqu County, Shandong Province. They have no income and are taking care of their granddaughter Huang Ying, pet named Huang Kaixin, Luo Zhixiang and Huang Guohua's daughter.
| | |
| --- | --- |
| Grandmother and 50-day old Huang Ying | Grandfather and Huang Ying |
| | |
| --- | --- |
| A corner of the house | Leaking roof - there is a crack about 1 cm (5/8 of an inch) wide on the roof |
The whole family of retired teacher Li Shufen in Nehe County, Heilongjiang Province practices Falun Gong. Her daughter-in-law Cui Xiaojuan is a teacher at Daqing City People's Police Academy. She died on December 30, 1999 when she tried to escape police. Her son Xu Xiangdong is a senior engineer at Daqing City's Developing Zone. He was illegally sentenced to 12 years in prison for his belief in Truth, Compassion, Tolerance. He was tortured until his face became deformed. The police constantly harassed Li Shufen, even after she already suffered tremendously from the persecution. She passed away on September 9, 2003. Li Shufen's grandchild who has grieved for four years for losing his/her mother, thus lost his/her grandmother who s/he depended on.
Practitioner Huang Ke in Fushun City, Liaoning Province was arrested and detained at the No.1 Detention Center in Fushun City in late June 2003. He died from torture within ten days. His wife Zhong Yunxiu was tortured to death in early October 1999. Huang Ke's mother, not a Falun Gong practitioner, had suffered from mental disability from an accident for many years. His father is taking care of his granddaughter who lost her mother when she was one year old and lost her father when she was five years old. People who are deceived by the propaganda attack them and treat them with disdain.
Practitioner Zhang Yunhe's mother in Qingdao City passed away in August 2001 from grief. His son-in-law Zou Songtao died from torture; his daughter Zhang Yunhe was forced to leave home and has not been heard from for a long time. She had distributed Falun Gong truth clarification flyers and was pursued by police. The police arrested her and they have been holding her in Room 8 on the 2nd floor of the Dashan Female Detention Center since February 2002. The local police purposely concealed information about Zhang Yunhe from her family for over two years. Her father is taking care of the four-year-old granddaughter Rong Rong.
Fourteen-year-old Li Guanggen and her ten-year-old sister Li Guanghua live in Poxin Town, the Maogang District, Maoming City, Guangdong Province. They live with their 95-year-old grandmother; life is very difficult for them. Their 48-year-old mother Li Mei was abducted and sent to the Zhaitou Detention Center in Dianbai County on January 1, 2001 [Chinese lunar calendar]. She was transferred to the Maoming Brainwashing Class in July 2001, where she was injected with nerve-damaging drugs, she then suffered from mental disability. She could not take care of herself in July 2003 [Chinese lunar calendar]. She passed away on June 24, 2004.
......
These elderly people would have enjoyed a peaceful and content life if it weren't for the persecution. Their children practiced Falun Gong and they loved each other. The persecution of Truth, Compassion, Tolerance deprived the practitioners of their freedom of belief and right to speak out the truth. It also deprived of these elderly people of their beloved sons and daughters, causing them in great tribulation. These people are living witnesses to the Party's lie that "this is the best period of human rights in China's history."