Boston: "Uncompromising Courage" Art Exhibit and "Contemporary Celebrated Artists' Authentic Works" Exhibit Held Simultaneously
(Clearwisdom.net) Clearwisdom correspondent Yue Ran reports from Boston: On December 9-12, 2004, a four-day "Uncompromising Courage" Art Exhibit and a "Contemporary Celebrated Artists' Authentic Works" Exhibit were held simultaneously at the Ritz-Carlton Hotel in Boston.
The art exhibit was held at Hamilton Hall. A Buddha's Statue, the work of renowned sculptor Mr. Zhang Kunlun, was placed at the center of the hall. The surrounding walls were arranged with 15 works, mainly oil paintings and encaustic paintings. Artists Wang Weixing and Wang Zhiping came to Boston specifically to participate in the art exhibit. Nine of their works were displayed. The Contemporary Celebrated Artists' Authentic Works, which included about 60 paintings and calligraphies, were also displayed at Washington Hall.
Works displayed at the "Uncompromising Courage" Art Exhibit were mostly created by Falun Gong practitioner-artists. They aimed to portray the theme of the persecution of Falun Gong in China. The works were all created in a western style with western techniques. The Contemporary Celebrated Artists' Authentic Works exhibit displayed works of Chinese traditional art masters in the past hundred years. These were created in the traditional Chinese style of painting and calligraphy.
How could the exhibits with two completely different styles be displayed at the same time and in such harmony? The owner of the works of contemporary celebrated artists, President of the Australian Chinese Art Association Mr. Tony Dai said, "My mother and I are both Falun Gong practitioners. My mother suffered from an immune system disease, and neither Chinese nor Western doctors could find a cure for it. It is Falun Gong that saved her from the brink of death, and enabled us to have a new life both physically and mentally. Just because of this, after the persecution began in 1999, we returned to China several times to appeal on behalf of Falun Gong, but we were detained and beaten. We hope to help people learn about the true situation of Falun Gong, and call for an end to the persecution. From this point of view, I think, the two exhibits share the same purpose. At the same time, Master Qi Baishi's granddaughter, artist Ms. Qi Bingshu, has been incarcerated in a mental hospital because she practices Falun Gong. We hope that when people appreciate the art masters' works, they can pay attention to Ms. Qi's safety and help rescue her. In the end, many artists whose work is in the exhibit, such as Pan Tianshou, Li Keran and Shi Lu, suffered persecution during the Culture Revolution, and even died as a result of the persecution. History is repeating itself; nevertheless, the Chinese Communist Party's persecution of Falun Gong is even more evil and brutal. We hope kind-hearted people will learn from the lessons in history and help stop this persecution."
Many visitors felt the two art exhibits were harmonious and impressive. They did not realize that the persecution of Falun Gong in China was so brutal, and they were moved by the spirit of Falun Gong practitioners. A young couple and their child came to visit the exhibits, and the wife said, "I don't practice Falun Gong, but my sister and brother-in-law practice. My brother-in-law was sentenced to seven years in prison for not renouncing Falun Gong, and my sister has to take care of the elders and the child at home. She has a difficult life. I feel they are great after seeing these exhibits."
"Uncompromising Courage" Art Exhibit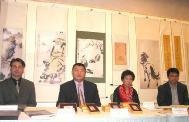 Press conference on Contemporary Celebrated Artists' Authentic Works