Hong Kong: Practitioners Hold Anti-Torture Exhibit on the World Human Rights Day to Expose the Persecution (Photos)
(Clearwisdom.net) December 10, 2004 was the World Human Rights Day. Hong Kong Falun Gong practitioners held an anti-torture exhibit. Before noon, more than 100 Falun Gong practitioners gathered at the Chater Gardens to call upon the public to stop Jiang regime's persecution of Falun Gong that has lasted for five more years. This year's activity included a live torture reenactment. From noon to evening, many people were attracted and showed concerns, and people were shocked to know that the brutality of Jiang regime's persecution of Falun Gong has reached to such an extent. Some people said that the Communist Party tortures were being introduced to Hong Kong. An elderly woman said, "I was very afraid just passing by there. I thought someone came to arrest people, how could this be happening? I was almost scared to death." She has been in Hong Kong for years, and seldom returns to Mainland China because she does not agree with the ways the Chinese authorities handle things. The Communist Party is certainly wrong for persecuting people like this. Some tourists from Mainland China wanted to learn Falun Gong, but felt helpless in the face of the circumstances in the Mainland.
| | |
| --- | --- |
| Hong Kong practitioners hold an anti-torture exhibit at Chater Gardens | Practitioners explain to people about torture methods used for persecuting Falun Gong practitioners |
| | |
| --- | --- |
| Anti-torture exhibit attracts people passing by to stop and watch | Anti-torture exhibit attracts people passing by to stop and watch |
Dr. Lionel Jensen, Dean of the Department of East Asia Language and Literature at the University of Notre Dame happened to pass by the anti-torture exhibit site. He said to the correspondent from The Epoch Times that many Americans who practice religion felt sad for the Chinese Communist Party's persecution of religious beliefs. Even those Americans who do not have any faith also felt sad for the Chinese Communist Party's treatment of Falun Gong by observing and via the information from the news.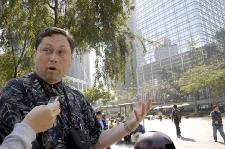 Dr. Jensen expresses while being interviewed that he is sad at the Chinese Communist Party's treatment of falun Gong.
Dr. Jensen also expressed that the tortures Falun Gong practitioners reenacted on the street are far from brutal comparing with what practitioners in China truly suffer. He thought it is necessary to hold anti-torture exhibit. It's not the most important that some people felt a bit uncomfortable at seeing it, the most important is to let the public learn that many people are suffering these tortures in the Mainland, and some even were tortured to death.
Beginning December 12, Monday, Falun Gong practitioners will continue holding anti-torture exhibits in several places in the middle ring, letting more people gain a deeper understanding of the inhumane persecution.