Ms. Li Ling, Former Chief of the Labor Bureau of Guta District in Jinzhou City, Died as a Result of Persecution by Shenyang City's Dabei Prison (Photo)
December 11, 2004 | By A Falun Gong practitioner from Jinzhou City
(Clearwisdom.net) Ms. Li Ling, 51 years old, was the former chief of the Labor Bureau of Guta District in Jinzhou City, as well as the deputy director of Heat Supply Company. After she started to practice Falun Gong in 1994, all of her illnesses went away. She strictly followed the principles of "Truthfulness-Compassion-Forbearance," and was well respected by her colleagues, neighbors and relatives. After Jiang initiated the persecution of Falun Gong on July 20, 1999, she went to Beijing to appeal in October 1999. She reported to the relevant authorities her own benefits from practicing Falun Gong. However at that time, the Appeals Office of State Council had become a place for persecuting and arresting practitioners, Li Ling went to Tiananmen Square instead to peacefully appeal. She was consequently sentenced to two years and was detained in Shenyang City's Dabei Prison for persecution. Soon after she was released, while she was at home on May 28, 2002, she was illegally taken away again by the Political and Judiciary Committee of Guta District. The authorities sentenced her to four years and detained her in the No. 5 Division of the Liaoning Province Women's Prison (Dabei Prison).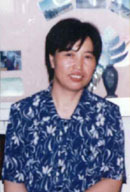 Li Ling's photo
Recently, during a new round of persecution of practitioners who refused to give up practicing "Truthfulness-Compassion-Forbearance," practitioner Li Ling died on November 17, 2004 as a result of torture. When the prison notified her family on November 17, she had already died. It was said that when her family visited her around October 20, no abnormal symptoms were found about her health. But within a span of 20 days, she was killed.
At this moment, Liaoning Province Women's Prison is trying to cover up her death. We call on international human rights organizations, the World Organization to Investigate the Persecution of Falun Gong and other organizations to uncover the details of her death.
Shenyang City's Dabei Women's Prison:
Chief of the prison: 86-24-89296666
Political Secretary: 86-24-89296677
Discipline Secretary: 86-24-89296818
Deputy chief of the prison: 86-24-89296655
Other phone numbers: 86-24-89296688 86-24-89296633 86-24-89296858
November 19, 2004