United Kingdom: Promoting Falun Dafa in Southampton (Photos)
(Clearwisdom.net) Southampton is a port city in southern England. The centre of the city is one of the biggest shopping areas in the district and every weekend, the streets are packed with people. With the approach of the Christmas shopping season, this area becomes even more crowded. On November the 20th, UK practitioners promoted Falun Dafa on the streets in the centre of Southampton by demonstrating the Falun Gong exercises and distributing leaflets.
That day was the first time it snowed in Southampton this year. Though the temperature dropped to below freezing, the bad weather did not deter the practitioners from going ahead with their activity. Many passers-by were attracted by Dafa's elegant exercises and the peaceful music that accompanied them. Some asked for information about the local exercise practice sites, while others took the initiative to talk to practitioners about the human rights abuses happening to people who practise Falun Gong in China. By the time the event finished, over 1500 flyers had been distributed.
On a Saturday two weeks ago, when practitioners promoted Falun Dafa and displayed photos to expose the persecution in the centre of Southampton, they found that local people found it very easy to understand Falun Dafa. As soon as they saw or learned the facts about the persecution, many people signed a petition calling for the instigator of the persecution, former Chinese leader Jiang Zemin, to be brought to justice. There were also many people who were delighted once they heard about Dafa and wanted to practice.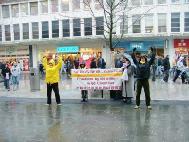 Exercise demonstration