Truth Clarification to VIPs during Presidential Election (Photos)
November 05, 2004 | By a Falun Dafa Practitioner in Virginia
(Clearwisdom.net) The end of October was the final stretch for the presidential race in the United States. It was also a perfect opportunity for Falun Gong practitioners to clarify the truth about Falun Gong to American VIPs. Though without any political inclination, Falun Gong practitioners hold compassionate intention to save sentient beings, including government officials.
On Oct. 30 and 31, we clarified the truth about Falun Gong at two rallies in north Virginia. We expressed our deep appreciation to the congressmen who sponsored the 304th Resolution to condemn the persecution of Falun Gong in China and to support Falun Gong practitioners' call for human rights. We took this opportunity to tell senators about the resolution and hoped they would support it in the senate. Although we didn't talk to them for too long, we were able to cover the resolution and the rescue of American citizen Charles Li. They happily took a group picture with us before we left.
A congressman who had never explicitly expressed his support of Falun Gong for the past few years said he would like to meet Falun Gong practitioners this year. After we clarified the truth to him, he immediately agreed to co-sponsor Resolution 304. Two senators also expressed their support of Falun Gong.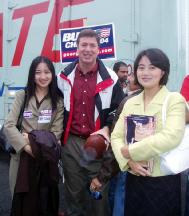 Senator George Allen and Falun Gong practitioners.
We went to a celebration on the Election Day, Nov. 2. Many government officials and media showed up. We shook hands with the re-elected congressman and thanked him for sponsoring Resolution 304. We also told many state officials, TV stations, newspapers and radio stations about the persecution in China. Some of them hadn't realized how brutal the persecution was until they talked to us. They all showed deep concern.