Practitioners Are Still Being Tortured at Daqing Prison in Heilongjiang Province (Photos)
November 29, 2004 | By a Mainland China practitioner
(Clearwisdom.net) Daqing Prison in Heilongjiang Province is an evil symbol of the Jiang and Luo Regime. Even as the general public has come to know the truth of the persecution, the officials of Daqing Prison still continue to persecute Falun Dafa practitioners rampantly and irrationally. They are willing to be Jiang's accomplices in the persecution of Falun Dafa practitioners.
A strong and healthy practitioner, Yu Yongquan, was tortured to death by guards in Daqing Prison on March 8 2003. The torture methods in Daqing Prison will soon be detailed in a separate report. As of today, Daqing Prison is still holding over 60 Falun Dafa practitioners. A prison in Harbin City sent 30 male practitioners to Daqing Prison for brainwashing.
Starting February 24 2004, Daqing Prison began another round of forced brainwashing. It established the "Forced Transformation Team" in groups where ten criminals and one guard were responsible for "transforming" a single Falun Dafa practitioner. The team tortured the practitioners around the clock to force them to renounce their belief so the criminals could have their sentences reduced. The authorities also put pressure on the guards: if the practitioner is not transformed, they will be fined and their salaries will be reduced. The criminals' sentences won't be shortened.
Now the Daqing Prison is rampantly torturing the practitioners. Some were locked in "small cells", some were tortured to the edge of death and now their lives are in danger. Here we call on all forces of justice to please work together to stop the evil deeds in Daqing Prison. Let's end the persecution of "Truth Compassion Forbearance"!
The following photos were brought out from Daqing Prison through the information blockade.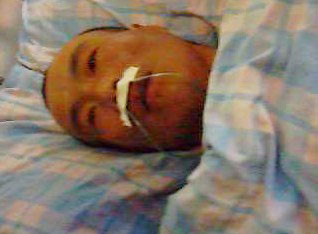 On November 17,practitioner Cheng Peiming had an operation. He is still very weak.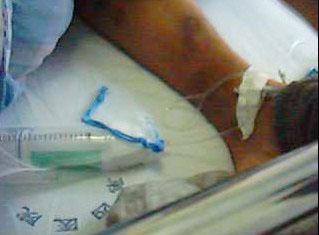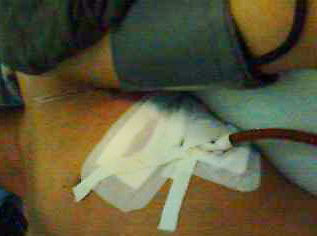 Many tubes inserted in Cheng Peiming's body.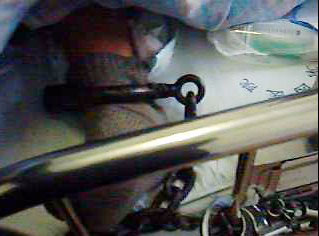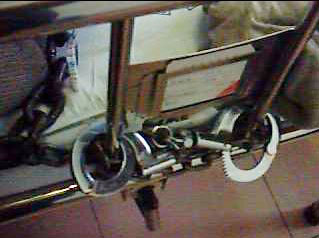 Though he is very weak, Cheng Peiming is still shackled to the bed.
Falun Dafa practitioner Zhang Zhong emaciated due to torture in Daqing Prison