New York Cultivation Experience Sharing Conference Solemnly Held, Master Comes in Person to Teach the Fa (Photos)
(Clearwisdom.net) Clearwisdom correspondent Cai Ju reports: On November 21, 2004, more than 4,000 Falun Gong practitioners solemnly held a Falun Dafa Cultivation Experience Sharing Conference at Javits Convention Center in Manhattan, New York. At about 1:20 p.m., our Benevolent and Revered Master came in person to the conference site, gave a Fa lecture to his disciples for about 40 minutes, and explained the Fa for about four hours and 20 minutes. Altogether, Master taught the Fa for five hours.
Master Teaches the Fa
At about 1:20p.m., all practitioners stood up and enthusiastically applauded for a long time to welcome their benevolent and revered Master. Master walked from one side of the podium to the other side and made the Heshi gesture to all practitioners.
Master affirmed Dafa disciples' efforts and achievements in truth clarification, and said that Dafa disciples' responsibility is grand.
Master also told the practitioners: Dafa's cultivation way is different from any other previous ways of cultivation. All previous cultivation was laying the foundation for Dafa disciples' cultivation today. Today, Dafa disciples' cultivation is to maximally conform to every people's forms. Only Dafa has such a mighty power, and only Dafa disciples have such a glorious honor, and will set an example for cultivation in the future.
At the end of Master's teaching of the Fa, Master seriously told the disciples: Be sure to cultivate rationally--you must not appear weird, incomprehensible and irrational. Master is benevolent, but if one truly causes damage to Dafa, the consequences are serious.
After 40 minutes of lecturing on the Fa, Master was considerate of disciples who wanted to meet Him and who have doubts and puzzles in their cultivation practice and wanted to get answers from Him. Master explained the Fa for about four hours and 20 minutes, and finished answering all questions from disciples. The last question was a greeting from a disciple in Beijing. Master encouraged more disciples in China to step forward to clarify the truth and offer salvation to living beings, and fulfill their sacred duty as Dafa disciples.
After the Fa lecture, all practitioners stood up and enthusiastically applauded for a long period of time. Master again circled the podium once and made the Heshi gesture to everyone. Disciples' warm applause lasted until Master left the conference hall.
Practitioners share their cultivation experiences

The main Fa conference hall
More than 4,000 Falun Gong practitioners attended the New York Cultivation Experience Sharing Conference. In addition to those from North America, practitioners came from Europe, Australia, South Africa, Japan, Singapore, Korea, Taiwan, Hong Kong and other countries and regions around the world. The Fa conference site was solemn and warm. Three words, "Truthfulness-Compassion-Tolerance" were placed right above the outside gate to the main hall. A banner reading "Falun Dafa Experience Sharing Conference in New York" with a yellow background was right above the podium inside the main hall. Two Falun Emblems with the words, "Falun rotates endlessly" and "Truthfulness-Compassion-Tolerance" were hung respectively on the left and right sides. Beyond the two Falun Emblems were two streamers reading, "Falun rotates endlessly" and "Buddha Fa is boundless." Master's portrait was in the middle, brilliantly shining against the background of red velour. Fresh flowers were beautifully arranged on the podium, and their fragrance permeated everywhere. On two sides of the hall were two huge banners with blue words on a yellow background that was several meters long. The words were "Buddha's grace saves all sentient beings," "Dafa comes to recreate the universe." On the opposite wall of the podium were three poems from Master. The middle one was "Fa Rectifies the Universe," the two others were "Strive Forward Diligently" and "Being Rational and Clearheaded." Two large TV screens were placed on both sides of the podium to improve the visibility of the stage.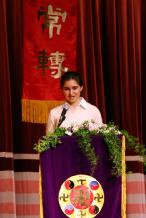 A practitioner gives a speech
With the help of simultaneous translation in different languages, five practitioners shared their experiences in Fa-rectification cultivation. The practitioners talked about their or their group's experiences and their enlightenment of how to assist Master to rectify the Fa, clarify the truth and offer salvation to living beings. They especially shared their touching experiences in going all out to clarify the facts in Manhattan over the past three months.
A Canadian practitioner shared her experience of clarifying the facts in Manhattan. She let go of her obstacle of feeling uneasy to talk to people, breaking through notions of egotism and clarifying the truth anytime, anyplace. Wherever she went, she brought the truth there. No matter what she did, walking, going shopping, waiting for or riding in buses, having meals or asking for directions, she found predestined people waiting to learn the truth from her.
A Western practitioner who obtained the Fa in April 2004, shared her longing for Dafa in her innermost heart, how she obtained the Fa, and how she strove hard to keep up with the process of Fa-rectification. Everyone could sense her pure heart. At the end of her speech, she expressed her hope, "Let's cherish the times we are together, and keep Truthfulness-Compassion-Tolerance in our hearts forever."
A Taiwanese lawyer reported her experience in participating in Fa-rectification cultivation in the form of "filing lawsuits." She said that the process of delivering the lawsuit to Auckland Superior Court was a process of firmly believing in Master, firmly believing in Dafa and believing that Dafa disciples must succeed. She also shared her experience of actively taking part in truth clarification to Western political and legal circles in Manhattan. She also shared her taking opportunities to clarify the truth to Chinese people in legal circles.
From the beginning of truth-clarification in Manhattan, practitioners from Taiwan have been continuously traversing the oceans to participate in the activities in Manhattan. Taiwan practitioners in the Subway Group introduced how they clarify the truth with wisdom inside the subway system and pass out truth-clarifying materials to offer salvation to people. They also shared how they let go of their attachments during the truth clarification efforts. Taiwan practitioners said, "We are an integrated one body, and it is the whole entity that validates the Fa, rather than validating our individuals."
Another Western practitioner shared with everyone how she used her special skills to clarify the truth to Western VIPs and the media, and how she found out and tried hard to let go of her attachment to "her ego," and realized the importance of practitioners' supporting each other as a whole entity.
The Fa conference successfully concluded around 6:20 p.m.. In addition to the Fa conference, and activities such as "Truth Clarification Corner" on Thursday and Friday, anti-torture exhibits, Saturday's grand parade and candlelight vigil, there will be a "Great Wall of Truth Clarification" covering Manhattan on Monday and "Character Formation" and "Large-scale Group Practice" in Central Park on Tuesday.
The Fa conference and the series of activities will further advance truth clarification in Manhattan.