Torture Methods Used at the Majialong Forced Labor Camp in Jiujiang City, Jiangxi Province (Re-enactment Photos)
November 20, 2004 | By a Falun Dafa practitioner from Jiangxi Province
(Clearwisdom.net) Majialong Forced Labor Camp in Jiujiang City, Jiangxi Province, is a "concentration camp" under the control of Jiang's faction, the purpose of which is to detain and torture Falun Gong practitioners. The camp utilizes very despicable, brutal and horrifying means to persecute practitioners. Since the authorities severely restrict the flow of information about what goes on inside the camp and have obscured the truth with lies, people on the outside do not know what happens here. The following pictures are reenactments of the tortures practitioners have suffered at the Majialong Forced Labor Camp.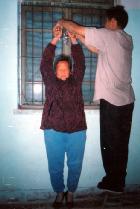 One of the most common tortures used at the Majialong Forced Labor Camp: Handcuffing and hanging up.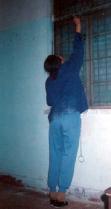 Xiao Sun is a practitioner from Jiujiang City. One of his hands was pulled up and secured so that only the tips of his toes barely touched the ground for several days and nights.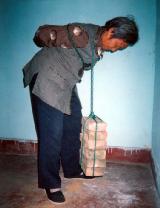 The police in the Majialong Forced Labor Camp hung bricks around Ge Lin's neck. Ge Lin, about 60 years old, is a Falun Dafa practitioner from Jiujiang City. Her hands were handcuffed, and she was suspended for up to 40 hours, with only her toes touching the ground. (The photo is not of Ge Lin, and, due to the pain involved, the hanging torture is not demonstrated.)