Young People in Manhattan Eagerly Sign Petition Calling for an End to the Persecution (Photos)
October 29, 2004
(Clearwisdom.net) On October 23, 2004, practitioners from Canada held an anti-torture exhibit on Broadway and 52nd Street in Manhattan, New York. There were still crowds of people on the streets of Manhattan though it was overcast, damp, blustery and chilly. With the continuous efforts of practitioners, more and more people have come to know the truth of Falun Gong and the persecution. I was impressed this time with the number of people who came to sign our petition calling for an end to the persecution. Many of them were young students.
Young people waiting to sign the petition
1) "I finally find a signature form to sign"
A young lady named Anna came across our anti-torture exhibition on Broadway and said excitedly, "I finally find a signature form to sign." While signing, she said to a practitioner, "Why don't you put signature forms at each intersection? I read your leaflet and newspaper a few weeks ago. I have thought about how to help you. But you don't want money. Someone told me to sign to support the appeal for an end of the persecution. Then I started to look for a signature form. Today I finally found it. I am so happy." Before leaving, she said, "I will contact you because I'd like to learn the exercises."

"I finally found a signature form to sign"
2 ) A Quiet Young Man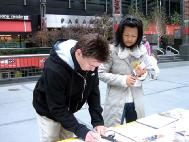 A quiet young man
Tom watched the anti-torture exhibit in deep concentration. Practitioners did not talk to him as he was concentrating so hard. Then he came to the signature collection table and signed his name. He left without saying a word. After half an hour, he brought five more young men with him and all of them signed. I was moved by his actions and wanted to talk to him. He said with a smile, "I don't have much to say. I just want to help you." He picked up some truth-clarification materials quietly and left with his friends.
3 ) Parents Bring Their Children to Sign
| | | |
| --- | --- | --- |
| "I brought them here just to sign." | "Signing on behalf of our baby." | "This is basic human rights." |
A father brought his two sons to our site and said to a practitioner, "I am bringing them here especially to sign. They know what is happening in China. I hope they can help you."
Mark brought his family of five to sign. After they signed, he looked at his small son sleeping in a cart and handed a signature form to his wife, "Sign on behalf of our baby. Hopefully it can help children being persecuted."
A mother brought her 8-year-old son to the anti-torture exhibition site. After a practitioner explained the facts to them, the mother asked her son, "Have you understood?" The son replied, "I understand." He asked after thinking over, "What can I do?" The practitioner said, "You can write to your government about the issue." The mother asked her son, "Are you able to do it?" The children said, "I can!" The practitioner told them they could sign on the signature form calling for an end to the persecution of Falun Gong in China. The mother asked her son, "Would you like to sign?" The child said, "I like." Then he signed earnestly. After the mother signed, she said to her son, "This is very basic human rights." The mother educated her son with her own words and action about human rights.
4 ) Two Righteous Young People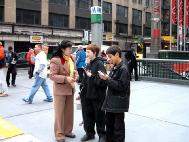 Two righteous young people
Two young people about ten years old stopped skating in front of our anti-torture exhibit and looked on. Suddenly one tried to hit the actor playing a Chinese policeman with his skateboard. A practitioner distributing flyers stopped him right away. The boy said, "I want to kill the evil policeman and rescue those two locked in a cage and tied on a bench." The practitioner praised his righteousness and explained, "They are just showing the persecution in China." Then the practitioner introduced the grace of Dafa and explained the persecution to them. The two kind-hearted boys listened with full attention. The practitioner told them to download Zhuan Falun to read after going home. They said they would. After signing, they pulled a little on the rope tied on a practitioner player and pushed the cage a little. They said, "We only want to make sure they are not loose."
5 ) A Peruvian Youth with Predestined Relationship
| | |
| --- | --- |
| A Peruvian youth with predestined relationship | Young people in line to sign |
A father and son from Peru said they would like to learn the exercises after listening to a practitioner's introduction. The practitioner told them there are many Falun Gong practitioners in Peru. The Peruvian youth said excitedly, "Yes? I will contact them after returning. Who knows, someday we will meet again!" At the end he requested to have a group photo with the practitioner.