Criminal Lawsuit Filed Against Jiang Zemin and Luo Gan in Bolivia (Photos)
(Clearwisdom.net) A criminal lawsuit was filed in Bolivia on the afternoon of November 16th, 2004, against former Chinese President Jiang Zemin and politburo standing member Luo Gan for the crimes of genocide and torture. In the lawsuit, the lawyers have requested that the prosecutor issue international arrest warrants for Jiang Zemin and Luo Gan and bring these prime culprits before the Bolivian courts.
Press Conference for the Lawsuit
Bolivia's general prosecutor, with offices in the city of Sucre, received the lawsuit on the stated date of November 16th. The lawsuit, which also charges Jiang Zemin and Luo Gan for forcing people into slavery or a similar state, threats, and the violation of liberty, details the brutal persecution of millions of Falun Gong practitioners who suffer horrible tortures and other cruel practices in Chinese labor camps. Those directly responsible for these crimes are Jiang Zemin and Luo Gan, head of the 610 Office, which was designed to coordinate and direct the persecution of Falun Gong practitioners throughout all of China.
Mrs. Dai Zhizhen and Lawyers in front of the Bolivia General Prosecutor's Office
The criminal lawsuit was filed by Bolivian lawyers, Mr. Marcos Zabalaga and Mr. Miguel Mardoñez who offered their time and efforts free of charge. The lawsuit itself came as the result of one the lawyer's own initiative, after having been very moved when he first learned about the persecution in China. Mr. Miguel Mardoñez said: "The defense of human rights, life and people's dignity should be defended in all countries of the world."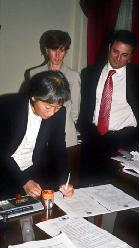 Mrs. Dai Zhizhen signs the lawsuit
The lawsuit for genocide is based on the Bolivian criminal code, which states that the Bolivian justice system is competent to prosecute the crime of genocide. The lawyers specifically requested that the prosecutor send a copy of the lawsuit to the Ambassador of China in Bolivia, so that he, as the Chinese authority in Bolivia, has knowledge of this legal action.
The lawsuit has been supported by 16 victims and was signed in the presence of one of the plaintiffs, Mrs. Dai Zhizhen, whose husband was tortured to death at the age of 34, leaving his newborn daughter fatherless.
Human rights affect the entire international community and therefore, all countries should show solidarity to put an end to acts of genocide and torture, like those carried out by defendants Jiang Zemin and Luo Gan. We hope that justice will ultimately be done for the victims and their families.