Reenacting the Tortures Inflicted upon Weifang City Falun Gong Practitioner Mr. Liu Haobin and Others (Photos)
(Clearwisdom.net) Xingbu Town in the Weicheng District of Weifang City, Shandong Province is one of the seven main "Reform Sites" where the local police torture practitioners to try and make them renounce Falun Gong. Since October 2000, lawless people in Xingbu Town have been hired to persecute practitioners. Some of the methods they have used include: shocking practitioners with electric batons and stun guns, flogging them with hard rubber hoses, kicking them with leather boots, intimidating them, threatening them, deceiving them with false rumors, starving them or giving them only meager rations, administering physical punishments, extorting money from them, striping off their clothes and leaving them to freeze in cold weather, and forcing them to curse Falun Gong and the founder of Falun Gong. The following are some of the facts of the persecution taking place in the "Reform Site" in Xingbu Town:
Seven to eight perpetrators surrounded practitioner Mr. Liu Haobin, beating him brutally and then shocking him with electric batons. They repeatedly tortured him in this fashion for several days.
Led by the head of Xingbu Town's Justice Bureau, Mr. Wang Jinkui, several perpetrators repeatedly beat practitioner Mr. Yu Aihong until he became disoriented. Next, Wang Jinkui dragged him to the Duty Office in Xingbu Town's police station and shocked him with electric batons for a long period of time, causing excruciating pain. Mr. Wang's agonizing screams affected everyone who heard them.
Liu Huiqin (female) from the town Family Planning Office removed her high heels and hit practitioner Ms. Yang Meihua on the back of her head several dozen times, shouting, "Will you renounce Falun Gong?" She hit her so hard that Ms. Yang saw stars in front of her eyes, and her eyes hurt long afterwards. In fact, Ms. Yang almost lost one of her eyes during the beating.
After practitioner Mr. Liu Yuxiang returned from his trip to Beijing to appeal on behalf of Falun Gong, the perpetrators beat him each night for two to three hours, four evenings in a row. During his illegal detention, Liu Yuxiang was given only a small amount of bread each day for nine days. Mr. Wang Yousheng from the town's police station once kicked Mr. Liu under his chin with his leather boots several times and then poured two cups of boiling water over his head.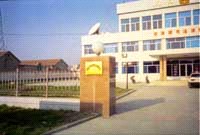 The "Reform Site" in Xingbu Town, Weicheng District
The following are reenactments of two types of tortures inflicted on practitioners: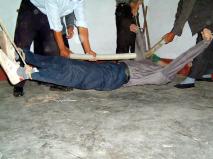 On December 21, 2000, the police from Changle Police Station tied ropes around practitioners' hands and feet, pulled their bodies up by the ropes, and beat them.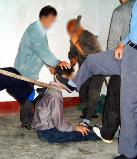 On March 2, 2000, Xia Huaiming and eight other perpetrators shocked practitioners with electric batons, hit their faces with leather boots, and flogged them using hard rubber hoses.
The main perpetrators participating in the persecution of Falun Gong practitioners in Xingbu Town
Xia Huaiming, former secretary of Xingbu Town's Party Labor Committee and now Assistant to District Mayor in the Weicheng District
86-536-8359898 (Home)
86-13806369588 (Mobile)

Wang Chengfang, former Assistant Secretary of Xingbu Town's Party Committee and now Chairman of the Beiguan Street Administration Office
86-536-8316132 (Home)
86-13963686388 (Mobile)
Yang Guoliang, former Xingbu Town Mayor and now Deputy Head of the Control Bureau in the Weicheng District
86-536-83882888 (Home)
86-13606360018 (Mobile)
Wang Jinkui, former Deputy Head of Xingbu Town's Justice Bureau. He has been transferred to Yuhe Town.
Zhuang Xiangdong, former Deputy Mayor of Xingbu Town
A partial list of Falun Gong practitioners that have suffered the most severe persecution in the "Reform Site" in Xingbu Town, Weicheng District
Li Xiulan
Li Shufeng
Ding Mengyun
Liu Haobin
Liu Yuxiang
Chen Xiangzhi
Bi Guangzu
Chen Ruoguang
Yang Meihua
Yu Rong
Yu Cuihong
Wang Xiuxiang
Cao Qingmei
Dao Lanmei
Yu Xiuxiang
Yu Suiling