Toronto, Canada: "Wall of Hate" Draws More Attention (Photos)
(Clearwisdom.net) Clearwisdom correspondent Xin Yue reports from Toronto:
Since May 2001, practitioners in Toronto have been going to the local Chinese Consulate every Saturday afternoon to peacefully appeal, clarify the truth and send forth righteous thoughts. Last Saturday (November 6, 2004) they found that the Visa Office was unusually bright, with all the lights on and windows open. The practitioners looked inside and saw that the "Wall of Hate" (with anti-Falun Gong propaganda) that had been pasted on the wall for nearly two years had disappeared.
What was the "Wall of Hate"?
Beginning in early 2003, every person who went to Chinese Consulate in Toronto would see the more than ten gruesome photos and slanderous material that filled up the entire wall inside the Visa Office. One might expect to see photos of the Great Wall or of colorful aspects of China's unique culture, but instead, the wall was covered with propaganda photos and materials contrived to demonize Falun Gong.
The wall of hate was used by Jiang's faction to attack Falun Gong practitioners. It forced people from around the world who came to visit the consulate to obtain visas and passports to be exposed to hate propaganda while waiting in line.
The wall was thus called the "Wall of Hate." It spread lies and hatred in Toronto's peaceful society for two years, in a place where hundreds of Canadian citizens and residents come each day.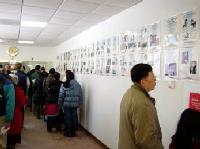 "Wall of Hate" facing the people lining up at the Visa Office in Chinese Consulate in Toronto (provided by the World Organization to Investigate the Persecution of Falun Gong "WOIPFG")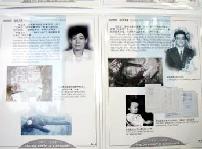 Bloody photos on the "Wall of Hate" used to slander Falun Gong
An investigator of the WOIPFG displays part of print distributed by Chinese embassies and consulates to incite hatred (provided by "WOIPFG")
Does the Saturday phenomenon indicate that the "Wall of Hate" has really disappeared?
With this question in mind, I interviewed Falun Gong practitioners in Toronto.
Falun Gong practitioner Ms. Ye said that it remains to be seen whether the "Wall of Hate" will really disappear for good. The Chinese Consulate General in Toronto's use of hate propaganda has extended far beyond the "Wall of Hate" inside the consulate.
"Wall of Hate" is only a small portion of the hate propaganda distributed outside China
In the past five years, the Chinese Embassy and Consulates in Canada have followed, monitored and even threatened local Falun Gong practitioners, and also interfered with various activities Falun Gong practitioners have held. Much evidence shows that the Chinese Consulate has directly disseminated hate propaganda to the local Chinese community and stirred up hate against Falun Gong. The Chinese Consulate officials repeatedly distributed materials in Chinese, English and French, slandering Falun Gong to all levels of Canadian government officials, and collected and provided a blacklist of Falun Gong practitioners to Jiang's regime, and so on.
Toronto Falun Gong practitioner Mr. John Zhang said, "The hate propaganda is based on lies and deception, and it should not have appeared in the first place. These actions are in violation of Canadian laws, as well as international diplomatic treaties."
Mr. Zhang continued, "Since Jiang Zemin began persecuting Falun Gong in 1999, we have been trying to contact staff in the Chinese Consulate to clarify the truth to them. The staff members can see the true situation of Falun Gong overseas, and keep contact with Falun Gong practitioners. They have witnessed the Falun Gong practitioners' peacefulness, but they have been continuing to distribute hate propaganda. They cannot avoid legal and moral responsibility with the excuse of being unable to learn the truth or 'just following orders.'"
Canadian Falun Gong practitioners have called for an end to the persecution and hate propaganda for a long time
Canadian Falun Gong practitioners have made all kinds of efforts in order to resist the Jiang faction's persecution of their belief, and to stop the hate propaganda that has been extended to Canada over the past few years.
For example, beginning in 2003, the practitioners made anti-hate propaganda postcards to call for help from the Canadian Ministry of Foreign Affairs.
With their effort, the Royal Canadian Mounted Police contacted practitioners numerous times to learn the facts. Toronto police also listened to the Falun Gong practitioners' report. Officers in 52 police precincts in Toronto felt shocked at learning that the Chinese Consulate disseminated hate propaganda in Canada, including the "Wall of Hate" inside the consulate, and that they regularly mailed slanderous materials to different levels of Canadian government officials. The officers also reported these facts to their superiors.
On April 25, 2003, Deputy Consul General of China in Toronto Pan Xinchun was sued for libel for defaming Falun Gong practitioner Joel Chipkar in The Toronto Star. On February 3, 2004, the Canadian Ontario Superior Court ruled that Pan Xinchun "acted maliciously and outside of his consular functions," and Pan was ordered to pay $10,000 for Chipkar's legal fees and a $1,000 symbolic fee for damages. Pan defied the court's verdict and refused to comply. The Ontario Superior Court has filed a notice to freeze Pan's assets and allow garnishment in July 2004.
The lawsuit against Pan Xinchun is considered an unprecedented case in Canadian judicial history. Renowned Canadian International Human Rights lawyer David Matas once commented that if diplomats or consular officials spread hatred, once the words come out of their mouths or go into print, they will be subject to prosecution.
| | |
| --- | --- |
| | |
| Chipkar with his lawyer and assistant to the lawyer | Chipkar holds a sign outside the Chinese Consulate in Toronto |
"You reap what you sow"
There has been a lot of talk on the Internet lately that since Jiang has stepped down, the new leadership in the Party is moving forward with discussions of lifting the ban on Falun Gong. Jiang Zemin proposed that lifting the ban should follow the way from the Cultural Revolution--kill a group of police officers to appease people's indignation.
Sources report that the lifting of the ban will indeed happen. The focal point of current discussions is how to clear the name of Falun Gong. High-ranking officials in Beijing organized some people to read and study all of the Falun Gong books and believe that Falun Gong's principle of "Truthfulness-Compassion-Tolerance" can be very useful to resolve social conflicts and crises.
Falun Gong practitioners commented that in the past five years, out of his personal interests, Jiang issued a directive to "defame their reputation, bankrupt them financially, destroy them physically" in order to try to eradicate Falun Gong. Their actions have been documented by human rights organizations as well as the Falun Gong practitioners. If they truly want to lift the ban, they must hold the chief perpetrators responsible, instead of a group of scapegoats.
Ms. Zhang said, "Falun Gong practitioners demand a list of perpetrators be brought to justice. Jiang Zemin, Luo Gan, Liu Jing and Zhou Yongkang are foremost in the list, but others who are still participating in persecution, including police officers, '610 Office' personnel, consulate staff, and special agents--all of these people will be unable to escape from their chosen fates."
Falun Gong practitioners generally believed that Jiang Zemin started the persecution and lies to justify it, leading to many people to bear hatred and fear against Falun Gong's principle "Truthfulness-Compassion-Tolerance" and Falun Gong practitioners who follow those principles. You reap what you sow - those who spread hatred will definitely meet with disaster themselves.