The Korean Times Reported the Graceful Float of Falun Dafa in the 31st Los Angeles Korean Festival
(Clearwisdom.net) Falun Dafa practitioners from San Diego and Los Angeles participated in the 31st Los Angeles Korean Festival parade and won three prizes. The beauty of Falun Dafa impressed many Korean people. The following report on September 20 is from The Korea Times: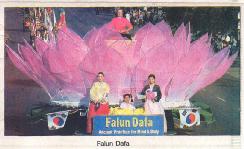 "Wow! Here comes Falun Gong too!" Falun Gong is not familiar to some Korean people. As Falun Gong practitioners showed up, the audience showed great curiosity. Falun Gong practitioners wearing yellow Chinese-style clothes participated in the parade along with a graceful float decorated as a lotus flower. John Li, an international student from China and a Falun Gong practitioner, proudly said: 'To prepare for parades, we spent one month to make the float on our own before the parade in Huntington Beach.'"