Details of the Relentless Persecution That Caused the Death of Practitioner Yang Qinghua from Wuhan (Photo)
October 31, 2004 | By a Dafa practitioner from Wuhan City
(Clearwisdom.net) Ms. Yang Qinghua, 51 years old and an employee of a storage battery factory in Wuhan City, lived near Wuchang Agriculture Training Institute. Her health greatly improved after she began practicing Falun Dafa in 1996. She stepped forward many times to clarify the truth and appeal for Falun Dafa after the persecution began on July 20, 1999. As a result, she was arrested by Zhonghualu Police Station and the "610 Office" and was illegally detained at the police station, brainwashing centers, and detention centers.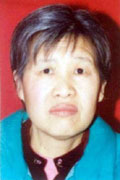 Dafa practitioner Yang Qinghua from Wuhan City died on August 25, 2004
One day in November of 1999, Yang Qinghua went to Tiananmen Square to appeal for justice for Falun Dafa. The Beijing police cuffed her hands behind her back for the whole day.
Later on, Yang Qinghua was abducted by local police officers when she was practicing the Falun Gong exercises near a river. She calmly clarified the truth to them and also taught them how to do the exercises. They released her unconditionally that afternoon. She was later abducted again by police and refused to cooperate with them. She insisted on practicing the exercises until she was released. At 1:00 a.m. on October 10, 2000, Yang Qinghua was sent to a brainwashing center and detained there for two weeks.

Yang Qinghua went to Tiananmen Square again in January of 2001, holding up a banner to clarify the truth about Falun Dafa. The police arrested her and sentenced her to one year of forced labor. She was detained in Wuhan Hewan Forced Labor Camp. The policemen confined her separately in a so-called "special cell" and brutally tortured her because she persisted in practicing Falun Dafa. They used a policy of "torturing her to deformity, if not torturing her to death" to persecute her and also forced her to do heavy manual labor.
Hewan Forced Labor Camp persecuted Yang Qinghua until "both eyes lost sight, both ears lost hearing, the feet lost the ability to walk, and the mouth lost the ability to talk properly." She was bedridden and on the brink of death. Even under such circumstances, the policemen continued to verbally abuse her.
In November of 2001, the forced labor camp ordered Yang Qinghua's family members to take her out of the forced labor camp after they had persecuted this once robust woman to the point of near-death. She was unable to recover from the mental and physical trauma, and the police continued to harass and threaten her until she died on August 25, 2004.

Yang Qinghua's death devastated her family members. Her story exposes the Jiang Zemin regime's crimes of genocide, carried out under Jiang's directive to "ruin their reputations, bankrupt them financially, and destroy them physically" and "beating them to death counts as suicide."
Oct 21, 2004