More Information About Ms. Tang Yiwen and Mr. Ouyang Ming (Photo)
October 18, 2004 | By Australian Falun Dafa practitioner Qiwen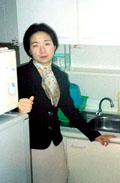 Ms. Tang Yiwen
(Clearwisdom.net) It was spring of 1998. At the request of Lisa, Ms. Tang Yiwen's sister, another practitioner and I met Yiwen in Guangzhou when I went back to China for a visit. We had a wonderful talk. Yiwen was a very active and energetic person and spoke English very well. Soon after we met, her cell phone rang and she started to speak Japanese with the caller. Later she told us that her Japanese was more fluent than her English.
Yiwen had started to practice Falun Gong only a short while ago. The three of us talked freely on various topics. We talked about our personal cultivation, as well as our daily lives. We talked for long hours, like family members, without reservations. Yiwen was optimistic and kind-hearted. I thought everyone would like her.
Over a year later, Jiang's regime started the suppression of Falun Gong in China. Newspapers and TV all over the country were full of slander and defamation of Falun Gong. Even innocent students were compelled to hate Falun Gong.
I could not help worrying about Yiwen then: She had only started to practice a little over a year ago. Could she withstand this ordeal? Later, I learned that the police had detained and brutally tortured her, to the point where her legs were disabled, and the only reason for this abuse was that she upheld her belief in Falun Dafa and would not tell a lie against her conscience. The first time I heard about this, I felt very sad. It was hard to believe that those lawless people could commit such an evil deed against a friendly and refined young lady like Yiwen.
However, three years of torture in the labor camp could not change Yiwen's kindness, her moral character and her righteous belief in Falun Dafa. She was forced to do slave labor, was beaten and abused at will and was forced to watch deceiving programs again and again. But so far, she hasn't uttered a single lie in the face of these adversities.
Yiwen once wrote this in the labor camp, "It's like a living hell here. Filth, violence and terror are everywhere, but my mind is clear, and I will not be fooled by any of their lies and games. I know what I should do." "Disabling my legs was agonizing, and so is the torture. If I am tortured to death, the impact on my parents will be terrible. However, what is more terrifying than pain is the torture of the mind, engraved in one's heart forever. A human should live like a human, with conscience, integrity and courage. Compassion could move us to tears, but we could not turn white to black in the face of brutality and betray our conscience."
Below are the persecution facts about Yiwen in chronological order:
May 2000: She appealed for Falun Gong in Beijing, but was arrested and the police severely injured her. By the time the police informed her husband to take her home, she was on the verge of death.
August 2000: Around 10:00 p.m., police broke into her home on the Hailian Road in the Haizhu District, Guangzhou City, pretending to check ID cards. They abducted her again and secretly sent her to the Guangdong Province Chatou Women's Forced Labor Camp. During the detention there, she was hung up and beaten for long hours, force-fed hot pepper, locked up in a dungeon and her legs were disabled from beatings. She was sentenced to two years of forced labor without any legal process. When her term was up, she was not released.
June 2003: She was transferred from the Chatou Forced Labor Camp to the Guangdong Province Sanshui Forced Labor Camp.
July 2003: Yiwen's persecution case was brought up in the Australian delegates' Sino-Australian Human Rights Dialogue.
August 2003: Yiwen was released but placed under surveillance.
February 2004: Yiwen was arrested again, and her husband was illegally detained and threatened. Sydney practitioners held a press conference in front of the Chinese Consulate regarding this incident.
March 2004: Yiwen's life was in great danger again from torture. Her family and friends sought rescue through various channels, and support from overseas poured into China. Later on, Yiwen was released, but she was followed and her phone was tapped.
May 2004: Her passport application to go abroad was denied the second time.
June 2004: Her passport application to go abroad was denied the third time by Haizhu District police in Guangzhou City. Her file is marked with restricted movement.
June 2004: Yiwen filed a lawsuit against the Baiyun District Prosecutor in Guangzhou City, on the grounds that she was illegally sentenced to prison and tortured.
July 2004: The prosecuting department replied that the City Political and Judiciary Committed would not accept her case.
July 22, 2004: Yiwen wrote to the Australian Prime Minister, seeking humanitarian aid.
August, 2004: Yiwen got a response from the Australian Prime Minister, that her letter had been passed on to the Immigration Department and the Ministry of Foreign Affairs for processing. "610 Office" personnel had been following Yiwen for quite some time.
September 2004: The Australian Ministry of Foreign Affairs wrote to a Sydney Falun Gong practitioner regarding this issue and stated that "the Australian Government has no grounds to pursue her case with the Chinese Government."
The ordeal Yiwen has gone through in these past several years has reflected her precious righteous belief in Falun Dafa, but has also shown the evil of the Jiang regime's genocide policy against Falun Gong practitioners.
As I was writing, I could not help remembering the sad story of Mr. Ouyang Ming, brother of an Australian citizen. He was tortured to death by Chinese police last year. Mr. Ouyang died with grief and exhaustion of his mind and body after suffering from many kinds of torture. Below is an account of what happened to him for three years and seven months, from January 2000 to August 2003:
(Reference: http://www.clearwisdom.net/emh/articles/2003/10/4/40963.html)
On January 15, 2000, Mr. Ouyang went alone to practice Falun Gong on Tiananmen Square in Beijing and was arrested. He was sent back to Huanggang City in Hubei Province and detained for one month. During his detention, his mother was seriously ill, but he was not allowed to visit her before she died.
In May 2000, Mr. Ouyang was abducted and taken to a brainwashing class in Huanggang City. He refused to sign the "Repentance Statement." Later, as the police tried to force him to trample on a picture of the founder of Falun Gong, he jumped from the second floor and broke his leg. He was sent to a hospital but not given proper treatment.
In November 2000, Mr. Ouyang was followed and kidnapped by police. They found several Falun Gong flyers in his pocket and detained him for a month.
In May 2001, Mr. Ouyang was distributing truth-clarifying flyers in Huanggang's Normal School and was reported to the authorities. He was sent to the Huanggang City No.1 Detention Center. Mr. Quyang protested with a hunger strike that lasted 78 days and later was transferred to Wuhan City Shizishan Forced Labor Camp for one year.
On April 13, 2002, less than one month after he was released from the labor camp, he was abducted again. Police took him to a detention center, using the accusation of "communicating with others using e-mails." He was unlawfully detained there for one year.
In mid-June 2003, Huanggang Police Department personnel sentenced Mr. Ouyang Ming to two years of forced labor and sent him directly to the Shayang Forced Labor Camp. Mr. Ouyang had by then been tortured a great deal and was quite frail, sensitive to cold and coughing a lot. He even needed help to walk. He looked like he was in his 50's even though he was less than 30 years old. Shayang Forced Labor Camp authorities refused to accept him because of his illnesses.
On June 24, Huanggang Police Department perpetrators had to send Mr. Ouyang to the Tuberculosis Hospital in the city. Mr. Ouyang was diagnosed with several serious illnesses such as hepatitis-B, lung disease and illnesses. Police forced his divorced wife pay the medical bill. Mr. Ouyang stayed in the hospital for four days but didn't show any signs of improvement. He got out of the hospital on July 10 and died on August 20.
Mr. Ouyang's elder brother Mr. Ouyang Yu is an Australian citizen, a writer, a poet and a non-practitioner. His brother's death as the result of illegal persecution has made him very sad and helpless, as there is no place he can go to seek justice. Mr. Ouyang Yu had sought help everywhere to rescue his brother, but to no avail.
What has happened to Ms. Tang Yiwen and Mr. Ouyang Ming was so similar. The only difference is that Mr. Ouyang has already lost his life and Yiwen is still alive but suffering severely.. We should not allow the tragedy of Ouyang Ming to repeat itself.
So, how could we help Yiwen? I believe direct truth-clarifying phone calls from overseas practitioners is one of the most effective ways, because it is exposing them before the whole world. This is what the evildoers fear the most.
Related phone numbers (country code: 86, Area code: 20):
Guangzhou City "610 Office:" 83116688 ext. "610 Office" or direct call: 83193123, 83377877
Zhang Qingsheng, Guangzhou City "610 Office" head: 61382058
Zhu Suisheng, Guangzhou Police Department Chief; his direct line: 83347347; appeals calls are answered personally by the chief on the first and 15th day of each month)
Guangdong Provincial Police Department: 83830739
Custom Administrative Office for the Guangdong Provincial Police Department
Head: He Guangping; deputy heads: Wen Rongfang, Deng Pufeng, Mo Lian
Consultation number: 83119147; Appeals number: 83111000
So-called "Legal Education School" [actually a Brainwashing Center] in Guangzhou City, Address: 56 Xizhou North Road, Chatou, Guangzhou City, Guangdong Province, Zip Code: 510000
Principal, Pan Jinhua: 81730646 (Office)
Political Commissar, Li Xuezhen: 83485250 (Home), 86-13922159049 (Cell)
September 29, 2004