Man Who Harassed Falun Gong Practitioners in Chicago Died of Sudden Illness Attack (photo)
(Clearwisdom.net) Lei Guoming harassed several female Falun Gong practitioners and attacked others who had been on hunger strike for days. He died of heart attack on November 1, 2002.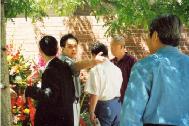 On the afternoon of July 13 2001, practitioners held a press conference outside the Chinese Consulate in Chicago with the title "SOS Urgent Rescue of Chinese practitioners being persecuted" and the announcement that a delegation of four practitioners would start the journey to Washington, DC that afternoon. The media invitations were sent out before July 10th.
After hearing the news that China won the application to host the 2008 Olympics, the Chinese Consulate in Chicago wanted to organize a celebration on July 13. About 2pm, practitioner Ms. Lu Feng was being interviewed by three reporters. Around 2:40pm, a group of men approached the practitioners and began to curse them. The practitioners kept calm and didn't fight back.
A man named Qiu Chaolian cursed practitioners. Another, named Mei Guoxin, touched a woman's breasts and tore the printed materials out of her arms three times.
Qiu and Lei Guoming kicked down display boards in front of the practitioners many times. After that, Lei Guoming made sexually harassing gestures and yelled insulting words to young female practitioners in front of the many guests invited by China consulate.
One practitioner asked, "Why do consular officials act like thugs to harass Falun Gong?" One official answered, "He is not consulate officer. He is American citzen." The practitioner said, "Then why did you hire thugs?"
Later the thugs hid inside the Chinese consulate. When police arrived, they took down complaints about the behavior of Qiu Chaolian and Mei Guoxin.
The man in the picture with his finger pointing forward is Lei Guoming. On November 1 2002, Lei Guoming, who was only about 50 years old, died of heart attack.
The Chinese have long believed that the "heavenly law never misses any punishment". The other two thugs, Zheng Jiming and Weng Yujun, attacked practitioners on hunger strike for days. They were found guilty in court and the immigration bureau has been investigating their asylum application.