More Details On Ms. Liu Zhifen's Death by Torture at the Hands of the Police In Chongzhou City (Photo)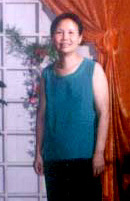 Ms. Liu Zhifen
(Clearwisdom.net) Ms. Liu Zhifen was 60 years old and had lived at the Eighth Group in Zhenxingtan Village, Chongyang Town, Sichuan Province. She used to make a living as a tailor on East Wenhua Street in Chongzhou City. Ms. Liu had suffered from chronic diseases like stomach disease, rheumatism and other ailments and needed to take daily medications. Her body was very weak and she was in pain. Since she had started to practice Falun Gong in 1997, however, all her diseases were gone. She looked much younger than before.
Police at Tiananmen Square arrested her in May 2000, while she was appealing in Beijing on behalf of Falun Dafa. First, she was illegally detained at the Beijing Police Station, then the Beijing Liasion Office for Sichuan Province, and then the Qingyang Drug Rehabilitation Center, in Chengdu City. During that period the police officers handcuffed her, slapped her in the face, beat and kicked her and denied her sleep. Chongzhou City Police Department authorities later took her back to Chongzhou City, where they detained her in the Chongzhou City Detention Center for 15 days. During her detention period police attempted to force her to sign a statement guaranteeing that she would renounce her belief in Falun Dafa, but Ms. Liu's firmly refused. Then the staff of the First Section of Chongzhou City's Police Department forced Liu's son to sign the "guarantee statement"* and extorted several hundred yuan from him in the form of a "living fee" and "commuting fee".
On July 23, 2000, Liu Zhifen was arrested by the Tiananmen Square police because she again had gone to Beijing to appeal. The Liasion Office staff members in Beijing, and later Beijing Detention Center officials, made her strip for a body-search. She was handcuffed and forced to stand under the hot sun, then beaten and kicked. Later, Chongzhou Police Station officers took her back and detained her into the Chongzhou City Police Department Detention Office for 17 days. Following that she was transferred to the Chongzhou City Detention Center for another 20 days. During the detention period guard Zhang Yuzhen handcuffed her with her hands behind her back for six consecutive days. This caused her great difficulty in eating, sleeping or going to the restroom. Female prisoners, directed by the authorities, verbally abused and beat her. She was not released until she protested the persecution by going on a hunger strike and refusing water. Before the authorities released her, they required her son to again to pay an additional "living fee" and "commuting fee" of several hundred yuan as well as to sign his name on the "guarantee statement".
In October 2000, police from Chongzhou City unlawfully arrested Ms. Liu once again and detained her for two days. These police officers demanded that Liu Zhifen's son to sign the "guarantee" for a third time and extorted 500 Yuan from him, which they called a "guarantee deposit", before they would release Ms. Liu.
On January 6, 2001, several police officers from Chongzhou City's Chengguan Police Precinct broke into Liu Zhifen's home without proper legal procedures, arrested Liu Zhifen and took her to the Chongzhou City Detention Center. The police continuously attempted to force her to sign statements renouncing her belief in Falun Dafa, but once again she firmly refused. As soon as the Chinese Lunar New Year arrived, the guards forced Liu Zhifen and other illegally detained Falun Gong practitioners to watch CCTV's propaganda program on the staged "Tiananmen Self-immolation". Liu Zhifen discovered their plans and protested by going on a hunger strike. She resisted all attempts to be brainwashed by the authorities. Her resistance caused the police to become furious and they put even more pressure on Liu. In retaliation, they slammed her head against the wall and force-fed her, which loosened her teeth. The insertion of the force-feeding tube injured her throat and esophagus.
After suffering from both psychological and physical tortures, Liu Zhifen died in the early hours of February 4, 2001. At the time of her death, she was emaciated and her head was swollen. Only a few hairs were left on her head and her mouth would not close. Before her death, she asked other Falun Dafa practitioners to help her to sit in the lotus position. She sat this way until the final second of her life, as evidence to the world that Falun Gong practitioners' determination in cultivation can never be shaken.
The police waited until 2:00 p.m. on February 4, 2001 before informing Liu Zhifen's children to come to the police station. The police officer present shamelessly yelled at her children, "Liu Zhifen cultivated to the point of insanity and is dead!" Her family was shocked by the news and wanted to pursue justice for her. The police oficer shouted again, "She has already been sent to the crematory. You can go to see Jiang Zemin!"
In deep grief, her family went to the crematory. They could only see Liu Zhifen's emaciated body. The authorities ordered her body to be cremated immediately. No medical examiner's report was made and in this way, the evidence of her torture was covered-up. Her family never had a chance to look into the matter carefully, as the police handled the matter very rapidly.
Because the murderers tightly blocked all information about her death and threatened and monitored Liu Zhifen's family, the family was forbidden from releasing the news and were not permitted to hold a memorial ceremony. The police station dispatched several plainclothes police to monitor the family in the aftermath of Liu's death and prevented anyone from visiting the immediate family, which made many of Liu's relatives unable to participate in remembering her. Chongzhou City Police Department's perpetrators anxiously covered up the truth of Ms. Liu's murder. They even claimed in a callous fabrication that "Liu Zhifen practiced Falun Gong and refused to take medicine, which caused her death." They also deceived the citizens of Chongzhou by fabricating news and broadcasting it on local state-run TV programs.
Responsible persons for her murder:
Former Chongzhou City Police Department No.1 Section Head: Zhang Shuiquan (transferred after Liu Zhifen's death)
Chongzhou City Police Department No.1 Section staff: Song Jianmin, Hu , police officer: Feng Xuemei (female)
Chongzhou City Detention Center Head: Luo Anqing; Assistant Head : Zhang Xingguo
Chongzhou City Police Department Chief: Zhang Shunguo 86-138-08235681
Chongzhou City Detention Center guards: Zhang Yuzhen (retired), Shuai Hongyu
Chongzhou City Chongyang Police Station: Zhou Qiang, Zhang Min, Gao
Chongzhou City Police Station address: Chongzhou City, Chongyang Town, Xiaodong Street #32, Postal Code 611230
Chongzhou City Police Department Office: 86-28-82272231
Director office: 86-28-82273772
Political and Law Committee: 86-28-82272300
December 6, 2003
* "Guarantee Statement": A statement to declare that he or she is remorseful for practicing Falun Gong and guarantees not to practice Falun Gong again, not to go to Beijing to appeal for Falun Gong, and never again associate with any Falun Gong practitioners.