New York Dafa Practitioners Participate in Grand Parade and Win High Praise from the Spectators (Photos)
(Clearwisdom.net) On September 1, 2003, New York Falun Gong practitioners were invited to participate in the annual "West Indies" grand parade held in Brooklyn. It is estimated that there were about 2,500,000 spectators this year. New York City Mayor Bloomberg, New York Governor Pataki, Senator Clinton and many other prominent figures took part in the parade.

Falun Gong practitioners' procession
| | | |
| --- | --- | --- |
| | | |
| Drums and gongs group | Demonstrating the Falun Dafa exercises | Falun Dafa's cultivation principle: Truthfulness-Compassion-Forbearance |
| | | |
| Lion Dance | Dragon Dance | Drummers accompanying the Lion Dance |
| | | |
| Ribbon Dance | A TV station interviews a Falun Gong practitioner | New York police officers watching the Lion Dance |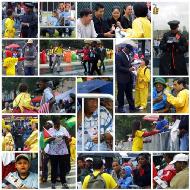 Spectators learn about Falun Gong while watching the parade
Excerpts from spectators' comments:
Beautiful, how outstanding!
I support them, they enable people to live harmoniously, get rid of the gaps between people in our society... The world needs more goodness like this. The people's rights are very important.
They brought ancient culture to New York, to Brooklyn. Look at their dignity and pride. Oh, no, it is not pride, because the pride contains selfishness. They don't say, "Come and look at me." Instead they say, "Come, this is what I have, and let's share it."
"They teach us to be patient ... under difficult circumstances, to remain calm--it's wonderful."
When learning about the persecution of Falun Gong practitioners in China,
"They don't need to explain, just look at them, how good they are!"
"I had no idea that such good people would be suppressed!"
"We'll welcome them forever."
Two New York police officers, "They should be arranged at the rear of the parade, so that everyone would become calm and peaceful."