Canada: Torontonians Hold Grand Rally to "Try Jiang Zemin" (Photos)
(Clearwisdom.net, September 29, 2003) On September 27, at Queen's Park in front of Ontario's Provincial Parliament, more than 20 organizations participating in forming the "Preparation Committee of the Global Coalition for Bringing Jiang to Justice" held a "Public Trial of Jiang Zemin." Since the "Preparation Committee of the Global Coalition for Bringing Jiang to Justice" was established in July this year, more than 70 organizations and some individuals have joined. According to people from the committee, more organizations are going to join. Over 300 people from different circles attended this "public trial."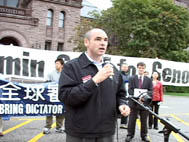 George Smitherman, Member of Provincial Parliament joined the rally and delivered a speech
George Smitherman, Member of Provincial Parliament joined the rally and delivered a speech. He expressed that it was his great honor to be here and to stand with people here to fight for justice. He said that if we stand together and face the pressure and persecution, patiently, as time passes, justice would eventually come. He stated that the message should be passed to those who do not agree with kindness, tolerance, and freedom, who do not respect others' values, it is time for them to be tried. He said that he will stand with us until the day when (the dictator) is tried comes.
John Zhang, one of the organizers of the "Preparation Committee of the Global Coalition for Bringing Jiang to Justice" read "the People's Resolution" of the Rally on that day: regardless of countries and nationalities, regardless of cultures and belief, regardless of national borders, and regardless of man, woman, old and young, "Be it Resolved by all people around the world, that this persecution of human rights, belief and freedom end, and that the Chinese dictator Jiang Zemin is brought to justice in the court of morality, in the court of conscience and in the court of law."
The representative of the "Global Coalition Against Article 23 Legislation," which is also a member of the preparation committee stated in his speech that this activity is not about hatred towards some individual, but instead, it is a fight between ruling by law and autocracy, and a fight between democracy and dictatorship.
Kevin Yang, a representative of "World Organization to Investigate the Persecution of Falun Gong" also gave an address at the rally. He pointed out that the persecution of millions of Falun Gong practitioners was completely out of Jiang Zemin's personal will. He employed a quarter of the entire country's financial resources to systematically persecute Falun Gong. He used the country as a tool for his dictatorship.
Sheng Xue, representative of "Committee to Investigate the June 4th Incident" commented: "There is one day the nightmare and fear will end, there is one day enslavement and persecution will end, and there is one day freedom and democracy will begin. All of these should start one day, and that day is today!"
Other organizations also expressed their support for "bringing Jiang to justice."
Human Rights Committee Coordinator with the United Nations Association of Canada's Toronto Branch Mr. Gerry O'Pray sent a representative to join the rally and expressed that to promote freedom and human rights are their responsibility. They will support this appeal for freedom.
The attending organizations formed a mock tribunal on the spot. As witnesses, several representatives of different organizations and individual victims of the persecution related their sufferings due to Jiang's persecution before the "judge" and requested that justice be upheld. After the "Judge" listened to witnesses' statements and the statements from both defendant and plaintiffs' attorneys, he pronounced Jiang guilty for committing genocide and crimes against humanity.
People from the preparation committee said that this activity serves as a prelude for the Canadian organizations and people to work together to bring Jiang to justice. Next, we will carry out a series of thorough actions including crime investigation, verification, publicizing the message through the internet, break though China's information blockade and filing lawsuits.
It is reported the "Global Coalition for Bringing Jiang to Justice" will be formally established on September 30, 2003 at the U.S. capital, Washington D.C. The coalition will hold its first public rally on October 6 in New York after its establishment.