Australia: Dafa Practitioners Demonstrate the Greatness of Dafa at the Flower Festival of Toowoomba (Photos)
September 30, 2003 | By Queensland Dafa practitioner, Australia
(Clearwisdom.net September 26, 2003) Filled with blossoming flowers, September in Toowoomba is abundant with the sights and sounds of spring. On September 20, this garden city held its 54th grand Flower Festival parade and thereby started the weeklong Flower Festival. This is the fourth time that Queensland practitioners participated in this grand celebration activity and presented again the greatness and serenity of Falun Dafa to the tens of thousands of local residents and tourists from different areas, including many from mainland China.
The parade started at 12 p.m.; the parade route is about 3 km with the sidewalks crowded with people. Accompanied by the compassionate and solemn Dafa music Pudu, the procession of Dafa practitioners proceeded slowly. When the float of Dafa practitioners passed by, crowds greeted us with applause and cheers.
| | | |
| --- | --- | --- |
| | | |
| Practitioners' Procession | In the Parade | Float Entering Downtown Toowoomba |
| | | |
| --- | --- | --- |
| | | |
| Falun Gong Exercises Demonstration | Beauty of Tang Attire | Fan Troupe |
When practitioners passed the podium, the host raised his voice to introduce us to the audience: "Now the group we see is the Falun Dafa group. Falun Dafa is based on the principles of í Truthfulness-Compassion-Tolerance.' It can improve people's health condition, relax the spirit, improve morality and reach inner peace. Let's give a hand to Falun Dafa!" His voice was interrupted by the warmest applause from the audience. The mayor, who was on the rostrum, exultantly greeted practitioners whom she knew, and practitioners also warmly waved their hands to greet her as well as the audience.
After the parade, practitioners demonstrated Falun Gong exercises on the outdoor stage before thousands of people. They all carefully watched, some even started to imitate the practitioners' movements, and the whole scene was very peaceful.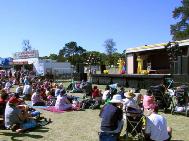 Watching Falun Gong Exercises Demonstration