Falun Dafa Practitioner Ms. Zhao Chunying Killed in the Jixi City No. 2 Detention Center (Photos)
(Clearwisdom.net September 19, 2003) Ms. Zhao Chunying, 56 years old, was a resident of Baoquanwei, Xiaohengshan Mine, Hengshan District, Jixi City, Heilongjiang Province. Because she went to clarify the truth of Falun Gong, she was detained in the Jixi City No. 2 Detention Center since April 17, 2003. On May 10, 2003, her family was notified that she had died. Her body was found to be covered with injuries.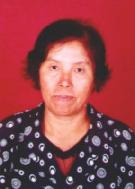 Prior to practicing Falun Dafa, Ms. Zhao Chunying suffered from necrosis in the femur joint and from dizziness. She used to walk very slowly. After she started practicing Falun Gong in 1998, Ms. Zhao recovered fully, and walked very lightly and easily. When Falun Dafa was persecuted in China, Zhao Chunying was forcibly sent to Wanjia Forced Labor Camp in Harbin City, Heilongjiang Province, because she clarified the truth on behalf of Falun Dafa. She was tortured mentally and physically there. Later, she exposed how she was persecuted on the Internet, and the police found out. The director of Hengshan Police Station, Yu Baoshan, leading four other police officers, arrested her on April 15, between 7 and 8 PM. She was sent to Jixi City No. 2 Detention Center on April 17. Her family was notified on May 10 that she had died.
Ms. Zhao's body was kept in the Jixi Funeral Home. Her family members were extremely shocked upon seeing her body, which was covered with injuries. Her eyes were slightly open, her face was a purple-blue color and there was a big crack on the back of her head. There were bloodstains everywhere, and her ribs were fractured, two on each side. Her bones and the joints on her arms were clearly visible; the condition of her body was extremely tragic to see. Her family decided to take photos and lodge an appeal regarding her death. The guards tried to block them, telling the family that no photos were allowed. Ms. Zhao's family tried with all their might, and finally managed to take several photos. After that, the forensic doctor examined the body once, but lied under police pressure, saying that her body might have been wounded due to self-inflicted punches, or because she was sick, or that perhaps she had been beaten to death by prisoners. Her family members asked him, "Why do you refuse to say that it is possible that she was beaten to death by police?" The doctor went totally silent.
Ms. Zhao's family has appealed for justice for her death over the past 4 months but have not obtained any results so far.
Ms. Zhao Chunying is the fifth Falun Dafa practitioner known to have died as a direct result of the persecution in the Jixi region. We publish five photos, as well as one photo taken before death. We are investigating the people who are responsible for Ms. Zhao's death. We will further follow up on her case, expose the evil, and bring the killers to justice as soon as possible.