Gainesville Sun (Florida): Falun Gong aims to raise awareness (Photo)
September 20. 2003 6:01AM
By BOB ARNDORFER
Sun staff writer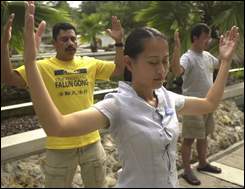 Photo by: ZOOM KATHRYN WALDECK/ special to The Sun
Jenny Wu, front, practices Falun Gong alongside Pablo Nunez, left, and Leu Yue on Friday in front of the Gainesville City Hall.
Practitioners of the Chinese system from around Florida gathered at City Hall on Friday.
The plaza in front of Gainesville City Hall on Friday resembled, on a tiny scale, a public square in China where thousands of people try to practice Falun Gong, an ancient system of self-development based on the principles of truthfulness, compassion and tolerance.
The difference is no one was arrested at City Hall for engaging in the meditative exercises of Falun Gong.
But in China, hundreds of thousands of Falun Gong practitioners - including at least one American citizen and a permanent U.S. resident - have been arrested for their beliefs. So said a small group of practitioners during the final stop in a statewide tour to publicize the plight of their counterparts in China.
"We want to show that this is not a Chinese issue," said Jared Pearman of Orlando, one of about a dozen Falun Gong practitioners from around Florida who gathered at City Hall Friday afternoon.
He compared the Falun Gong persecution to the Nazi persecution of Jews, and said the world today needs to intervene just as it needed to speak out in the 1930s and '40s.
"A conservative estimate is that there are 200,000 Falun Gong practitioners in Chinese jails, slave camps or mental institutions," said Pearman, who is among an estimated 100 Falun Gong practitioners in Florida. "But it could be as high as two million."
The visit was part of awareness tours being conducted by state groups nationwide. The Florida tour began last week and ended in Gainesville after stops in several cities.
Pearman said there are an estimated 100 million practitioners in China. Falun Gong, also called Falun Dafa, is a mind and body exercise and meditation system built around the "cultivation" of behavior based on truth, compassion and tolerance. It is not a religion, but a system of personal improvement.
He said practitioners hold it above government, and that is why the leadership of China's communist government feels threatened by the millions who practice Falun Gong.
"When Jiang Zemin (president of the People's Republic of China) saw so many people who believed in something greater than him, he began the persecution," said Pearman, who in 2001 went to Beijing with about 100 other Westerners and was arrested for demonstrating against the Falun Gong crackdown.
Practitioner Gui Fen Gao, a permanent U.S. resident who lives in St. Petersburg, said she was arrested and jailed for a month in October 2000 after she returned to her Chinese homeland.
"It's important to be here because an American citizen, Charles Li, has been arrested in China," Gao said through an interpreter. "He is a good person and was arrested for his belief in the principles of truthfulness, compassion and tolerance. I feel like I want to let people know about him and help bring him back."
Li, an American from California, has been imprisoned in China since his arrest in January. A Florida resident, Li Meizi of Palm Coast, has been detained in China since November, when she went to visit family and authorities found a Falun Gong book in her possession.
University of Florida student Jenny Wu, one of three known practitioners in Gainesville, said a cousin introduced her to Falun Gong about two years ago. She also learned of the persecution, she said, and joined the tour to promote awareness and push for international pressure on China to abandon the oppression.
"People can talk to practitioners to learn more about Falun Gong," said Wu, a senior in business management who is from Taiwan. "They also can write their representatives in Congress to end the persecution."
http://gainesvillesun.com/apps/pbcs.dll/article?AID=/20030920/LOCAL/209200321/1007