World Journal: Car Tour Around the US to Rescue Charles Li Arrives in New Jersey (Photo)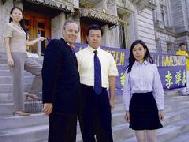 Charles Li's fiancée, Yeong-ching Foo (front from right), Chen Gang, Alan and Lili appeal for release of Charles Li being imprisoned in China
(Clearwisdom.net September 13, 2003) World Journal reports from New Jersey -- to rescue Charles Li who is being imprisoned in China, American Falun Gong practitioners and Charles Li's friends initiated the Car Tour Around the US to Rescue Charles Li, which arrived at New Jersey on September 9. Charles Li's fiancée, Yeong-ching Foo from California participated in this rescue activity, narrated the plight of Charles Li's unlawful arrest and imprisonment, and appealed to local people to sign the appeal letter or write a letter to request members of congress to urge China to release Charles Li.
Charles Li, a Falun Gong practitioner from California, was arrested at the end of January in Guangzhou Airport by the Chinese communist regime with a charge of intending to intercept Yangzhou TV signals and sentenced to three-year imprisonment. Charles Li held three hunger strikes to protest torture by the Chinese regime and tried to hand over his 96-page complain notes wrote in jail to the US Consulate officials in Shanghai. The jail intercepted the first 8 pages and handed them over only after US Consulate officials complained.
Yeong-ching Foo, temporarily suspending her job so as to help rescue Charles Li, said, "Charles Li was punched and kicked when Chinese communist police arrested him. Currently, he is imprisoned in Nanjing and only US Consulate officials and his aged parents are allowed to visit him once a month. But I am not approved and can only obtain Li's plight in jail from US Consulate."
Yeong-ching Foo said, "When Charles Li's parents visited him each month, there were four police standing behind them and six police behind Charles. In addition, Charles is not allowed to practice Falun Gong in jail. If he insists, inmates beat him in turns and a drug addict inmate once threatened to ' kill Charles Li'. He does not have any dignity of a human being in jail."
Chen Gang, released on July 18 after one and a half years imprisonment in Beijing Tuanhe Labor Camp for practicing Falun Gong, said, "There were over 20 inmates in each cell and life was very hard. The plight of Falun Gong practitioners were even worse. I was deprived sleep for 15 days and often forced to squat for one or two hours."
The Car Tour Around the US to Rescue Charles Li started on August 13 from California and held press conferences in city councils of Newark and Camden, New Jersey. They will soon arrive at their destination, Washington DC and have a large scale rally. Lili, the executive of the Global Rescue of Falun Gong Practitioners Being Persecuted, and over a dozen of Falun Gong practitioners were in New Jersey on September 9 and appealed to people to participate in the rescue activity. Many passers-by signed [the appeal letters to show their] support.