Long Beach California Celebrates Falun Dafa Week, Congresswoman Attends And Presents Proclamation (Photos)
(Clearwisdom.net) On the afternoon of August 10 2003, the celebration of "Los Angeles County Falun Dafa Week" was going on in the central library of Long Beach City, the beautiful and fifth largest city of California. A representative from Congresswoman Linda Sanchez attended the meeting and presented a proclamation in favor of Falun Dafa.
Falun Gong practitioners from Long Beach and nearby areas participated in the celebration. The meeting hall was decorated very beautifully. Two banners, "Falun Dafa" and "Truthfulness Compassion Forbearance" were hanging over the chairman's desk. On the tables at the front of the hall, many proclamations and award certificates from various levels of governments were set up neatly. Along the wall of the hall and outside of the hall, there were all kinds of materials and display boards introducing Falun Dafa and clarifying the truth.
The celebration began at 2 PM. First, a practitioners gave an opening speech. The practitioners briefly introduced the wide spread of Falun Dafa in the world, the contributions Falun Dafa made to the people of California and the community, and the courage, peace and strength of Chinese Falun Gong practitioners showing to the world in face of evil persecution. After the speech, the representative of Congresswoman Linda Sanchez, Ms. Chiarra Sithichai went up to the stage, congratulated and presented a proclamation in favor of Falun Dafa. Representing the Congresswoman, Sithichai welcomed Falun Gong practitioners and local residents to celebrate in Long Beach. She warmly praised Falun Dafa for its contribution to the community and expressed that the Congresswoman was honored to join other government officials to proclaim Falun Dafa. Her speech won warm applauses from the audience. After the meeting, Ms. Sithichai was interviewed by New Tang Dynasty TV.
| | | |
| --- | --- | --- |
| | | |
| Representative of Congresswoman Ms. Chiarra Sithichai. | Proclamations and Award certificates from various levels of governments. | Chiarra Sithichai is interviewed by NTD TV. |
It was announced that proclamations and award certificates have been given by ten branches of government in California. The practitioners expressed their sincere appreciation for such great support and presented Falun Dafa books and video tapes to guests.
Next, three practitioners demonstrated the Falun Gong exercises. A practitioner from Los Angeles performed solo of Er Hu (a two string traditional Chinese music instrument). All the attendees watched a video program introducing Falun Dafa. The local residents who attended the celebration also learned the five sets of exercises. After learned the exercises, they contacted the local practitioners to join the group practice.
| | | |
| --- | --- | --- |
| | | |
| Falun Gong exercise demonstration | Er Hu solo | Attendees are watching a video program about Falun Dafa |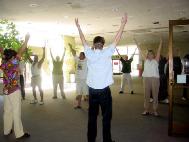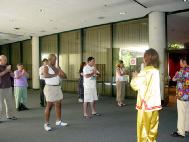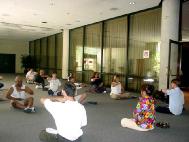 4 to 6 people are learning exercises carefully