Most Hong Kongers Do Not Accept Rushed Legislation of Subversion Law (Photo)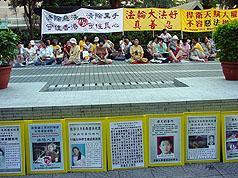 Falun Gong practitioners protest the Hong Kong government's submission of Article 23 to LegCo for second reading. On July 5, practitioners held a site-in outside LegCo to protest.
(Clearwisdom.net) Facing the pressure of 500,000 Hong Kong people's grand march on July 1, Hong Kong chief executive Tung Chee-hwa finally responded: Article 23 legislation would be submitted to LegCo (Legislation Council) for the second reading after making three amendments to the draft legislation. People of various circles expressed this response was not acceptable. The amendments were not enough to resolve Hong Kong residents' concerns.
President of Hong Kong Reporters Association Ms. Cheong Bingling said that the amendment could not eliminate the concerns of the association. Adding public interest as a defense only answered one of the demands of the media circle. As for other concerns including suppressing inciting publications, the government did not give any response. She expressed disappointment and resentment.
Ms. Cheong added that the association would attend the July 9 rally outside LegCo. She called upon colleagues in the media circle to participate.
Hong Kong Falun Gong Spokesperson Kan Hung-cheung said that even though the Hong Kong government made three new amendments to the national security bill, it is not enough to resolve people's concern.
He pointed out that the provisions on inciting publications still suffocate human rights and freedoms. They asked to withdraw the legislation or indefinitely shelve it.
President of Hong Kong Residents Supporting China Democratic Movement Union thinks that the three amendments Hong Kong government proposed were just to sooth Hong Kong people's anger but did not respond to the 500, 000 people's demands. He said the union would not accept a patched-up law and demanded the government to stop the security legislation all together.
Hong Kong Human Rights Monitoring Organization called upon the SAR government to stop Article 23 legislation and consulted people's opinions, including whether there is the need to enact the law at the present time. The organization also urged the SAR government to start consultation on Hong Kong basic law reform and hold general elections.
Student Union representing 8 universities said that they welcomed the Hong Kong government to make amendments to controversial provisions but could not accept that the government would continue the second reading of Article 23 on July 9. The Student Union hoped enough time was allowed to consult the new amendments, and the Student Union will start hunger strikes outside LegCo on July 7.
In addition, several Christian and Catholic organizations also expressed that they could not accept the Hong Kong government's rushing into amending the security bill. Lucy Hu of the Christians Club called upon Christians to appeal outside LegCo on July 9.