Central News Agency: Nearly 500,000 Hong Kong People Participate in Grand March Against Article 23 Legislation (Photos)
(Clearwisdom.net) Central News Agency, July 1st report in Hong Kong: nearly a half million Hong Kong citizens participated in the "July 1st" Grand March Against Article 23 Legislation initiated by more than 40 groups. This was the largest march in Hong Kong since the "June 4th " Incident in 1989, completely beyond the sponsor's estimation.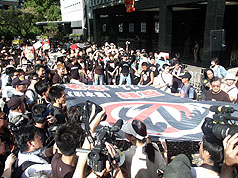 The grand procession marches to the Hong Kong Government Headquarters to appeal
The procession gathered at 3:00p.m. in Victoria Park. Due to the large number of people participating, the march that was scheduled to set off at 3:30p.m. started 15 minutes in advance. The procession marched along Causeway Bay, Wan Chai, and Central, until it reached the Hong Kong Government Headquarters.
The march lasted from a scheduled two hours to six hours due to the large number of people participating and many citizens' joining in along the road. When the front part of the procession reached the Hong Kong Government Headquarters at 4:30 p.m., a large number of people still were gathered in Victoria Park. The final part of the procession left Victoria Park at 7:15 p.m., and arrived at the government headquarters at 9:30 p.m..
The sponsor estimated that there were nearly 500,000 people participating in the march, completely beyond what they had expected.
Tsoi Yiu-cheong, spokesman for the Civil Human Rights Front, said that though the weather was sweltering, nearly a half million citizens participated in the grand march, showing that citizens could not tolerate the enactment of Article 23 legislation. He said that if the government did not think over and withdraw the related legislation, and insisted on holding discussions in the Legislative Council on July 9 about the "National Security Bill" legislation, they would call upon citizens to surround the Legislative Council Building to express their oppositions.
The police admitted that this was the largest march since one million Hong Kong people participated in the "June 4th Incident" grand march in 1989. The police sent out one thousand officers to maintain order, but due to the large number of people, the sponsor also organized several hundred people to help maintain order. The police also sealed off a section of the road so that the procession could go smoothly, but this resulted in the traffic from Causeway Bay to Wan Chai to become completely paralyzed in the afternoon. The subway was also jammed with people.
Because of the hot weather, more than 150 people suffered light heat stroke during the march, needing to ask for help from the Red Cross Association, and 14 were suspected of having heart attacks or strokes, and had to be sent to the hospital for further medical treatment.
More than 40 groups initiated the grand march, including human rights organizations, political parties, media organizations, lawyers, educators, religious groups, students, community groups and women's groups.