"China e-Lobby:" Tracking the Jiang Regime's Persecution of Falun Gong (Photos)
(Clearwisdom.net July 26, 2003) The Epoch Times reported on July 25, 2003 that Mr. D.J. McGuire, the representative of China e-lobby attended the grand rally of 5000 people against the persecution of Falun Gong in front of the Capitol Hill on July 22. Mr. McGuire said of Jiang at the rally, "you can hide behind your supposed retirement, but you cannot run from the consequences of your actions. You can hide behind your corrupt judiciary, but you cannot run from ours. You can hide behind what you call the law, but you cannot run from what we know is justice."
| | | |
| --- | --- | --- |
| | | |
| Representative of China e-lobby, Mr. D.J. McGuire | Over 5000 Falun Gong practitioners protest Jiang regime's persecution of Falun Gong | A little Falun Gong practitioner from another state holds a poster charging Jiang |
Jiang's regime started its brutal persecution of Falun Gong on July 20, 1999. Four years have passed, and many peaceful Falun Gong practitioners have been imprisoned and killed. More than 5000 representatives of Falun Gong practitioners from all over the world, several US Senators and Congressmen, and more than 30 NGO's held a grand rally in front of the Capitol Hill and called on the international community to offer help and work together to end this persecution immediately.
Mr. McGuire said, "Since its inception three years ago, the China e-Lobby has been tracking the Communist persecution of Falun Gong, spearheaded by Jiang Zemin. Over the past few months, Communist China has supposedly undergone a transition, from Jiang to Hu Jintao. Jiang would have us believe that he has retired, and he has given up his title as PRC President and Communist Party leader to Hu. However, Jiang still, in many ways, runs Communist China from behind the scenes as Chairman of the Central Military Commission, the post from which Deng Xiaoping ordered the massacre of Tiananmen Square. Jiang's political faction is also the largest and most powerful in the Communist Party. Make no mistake; the man responsible for China's persecution of Falun Gong has not gone on to greener pastures. He is still overseeing the war against religious freedom; he is still in control of the oppressive military and police forces that imprison and murder Falun Gong practitioners every day."
"Some would have us believe that the persecution of Falun Gong is not an American issue. Tell that to Jun Li, the victim of the latest Communist assault on human liberty. Right here in the United States, outside of the Palace 88 restaurant in Manhattan, a gathering of Communist fellow travellers, on their way home from a dinner with Consular-General Hongxi Zhang, pummelled Jun and threatened to kill him, all because he was peacefully distributing flyers and holding a poster about the lawsuit against Jiang. This is just one of the many examples of how Communist China extends its long, totalitarian arm into the free world to corral its expatriates, and attack its opponents far from home."
Lastly, he said, "My friends, the Communists may be brutal in their war against Falun Gong, but they will not be successful. Rest assured, freedom will come to China, and with the help of Friends of Falun Gong -- and all of you -- we will prevail."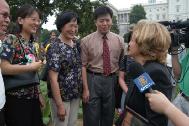 Mr. Chen Gang, a Falun Gong practitioner who was persecuted before being rescued recently, expresses his gratitude to members of congress.
China e-lobby is an organization dedicated to exposing the abuses of human rights, and attacks on general decency committed by Communist China, and to influencing American policy to ensure these egregious acts do not go unopposed. China e-lobby especially hopes that the people are aware of the following information: communist China's persecuting its own people, threatening peaceful and democratic neighbouring countries, aiding terrorists before the 911 tragedy and bullying democratic Taiwan etc.