Taiwan: Kaohsiung "July 20" Grand March to Support "Bringing Jiang to Justice Globally " (Photos)
(Clearwisdom.net) July 21st report: It has been four years since Jiang launched a brutal campaign of suppression of Falun Gong. On July 20, 2003, Dafa practitioners from nine counties and cities in southern Tainan gathered in Kaohsiung to hold a grand march entitled, "Appeal from people -- 'support bringing Jiang to justice globally'." With rapid progress of Fa-rectification, the practitioners took every opportunity to let Taiwanese know that the persecution against Dafa in China must be stopped, and Jiang must be put on trial.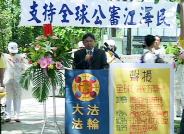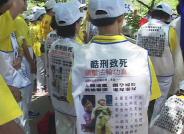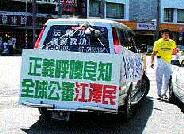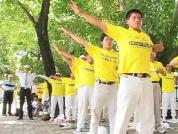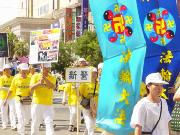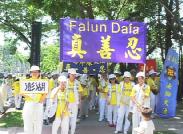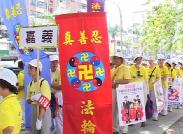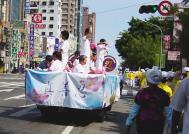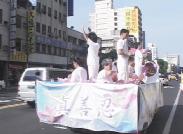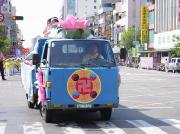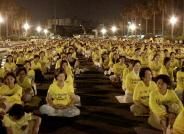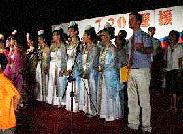 In the afternoon, a press conference was first held in "light corridor of the city" in Kaohsiung. Dafa practitioners in bright yellow shirts and white trousers looked so energetic and full of youthful spirit. Passersby could see clearly the message written on the banners, "Support bringing Jiang to Justice." A number of media outlets attended the press conference, showed their concern and raised many questions for the lawsuit against Jiang in Northern District Federal Court in Illinois, USA. Young practitioners and practitioners in fairy dresses demonstrated the exercises. Tainan Dafa practitioners put on a puppet show, "Jiang's worst nightmare," winning attention of many people and the media in attendence.
Later, Dafa practitioners began to march. The procession passed through five shopping malls in Kaohsiung where there were streams of people. Practitioners, old and young, wearing vests with the words, "Bringing Jiang to justice," "Persecution cases," and "Falun Dafa is good," held a variety of banners. The grand scene left a deep impression on Kaohsiung citizens.
The activity was significant. Through clarifying this historical event in a way that everday people could grasp, we could touch the kindness in their hearts. Many people were glad to support us. Since July 12, Falun Gong practitioners in Kaohsiung have held a signature collection drive with the theme, "Support bringing Jiang to justice" at tourist sites. Practitioners felt they could better clarify the truth about Falun Dafa this way. Many people with a sense of justice signed their names on signature collection boards after listening to the brutal persecution of Jiang against Falun Gong practitioners. Some people expressed that Jiang should have already been put on trial.
The parade concluded successfully at 5:00 p.m. at the Culture Center. At 6:30 p.m., a concert was held in Labor Park. Practitioners displayed their versatilities in the arts to the public. The peaceful exercises demonstration, film-showing, and singing of songs composed by Dafa practitioners, conveyed Dafa practitioners' sincere wish: More people will see the beauty and goodness of Falun Dafa and learn about the truth and have a brighter future. At 9:00 p.m., the concert concluded. The day's activity was successfully concluded.