A Four Year-Old Girl Dies As a Result of Persecution: Wang Shujie in Laiwu City, Shandong Province (photos)
(Clearwisdom.net) Four-year-old Wang Shujie lived in Nanmiaoshan Three Village, Miaoshan Town, Laiwu City, Shandong Province. During the evil's brutal persecution against Dafa, young Shujie suffered inhuman damage to her physical and mental health, like hundreds of thousands of other children of persecuted Dafa practitioners. On July 15, 2002, young Shujie died after being forced to live under trepidation and persecution for two years. Following are the particulars.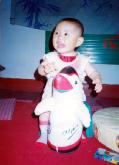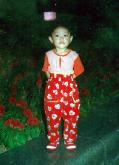 On July 19, 2000, a group of police officers broke into Shujie Uncle's home and abducted all adults in the house in front of Shujie. On December 3, 2000, the police took Shujie's father and Shujie to the Guansi Police Station for interrogation. Before Shujie's father even opened his mouth, the officer used a book to slap his face. Shujie immediately passed out from shock and fear. After she waked up, she had a fever and sweated. She shook her head from side to side due to severe pain in her head. She was antsy and uneasy and banged her head against the wall. After she returned home, she was in lethargic sleep for a whole day. The police went to Shujie's home over and over again to arrest her family members. When Shujie's father was arrested and was not home, Shujie missed her father very much, and she held the picture taken with her father in her arms and cried badly.
In the evening of August 14, 2001, Li, the chief and also the political chief of the Miaoshan Police Station, with the police stick in his hand, went to Shujie's home again to arrest people. Shujie was awakened after having fallen asleep minutes before and shouted, "Dad, Mom, I won't let you go!"
August 15 [from the lunar calendar] is a Chinese festival when families reunite, yet Shujie's family was forced to leave home to avoid illegal arrest. Shujie's health was greatly damaged from mental shocks over and over again, and from living in fear for a long time. Her health was devastated and she had difficulty eating.
At dawn on February 1, 2002, nearly 20 police officers surrounded Shujie's home. They broke inside in an attempt to kidnap Shujie's father to a brainwashing class. Shujie was so scared she wet her bed. The police simply ignored her and took away Shujie's father and sent him to a brainwashing class. Shujie cried loudly.
On February 14, 2002, Shujie and her aunt went to the brainwashing class to visit her father. When she returned, Shujie said to her mother, "Dad said today is my birthday, but he can't be with me." Mother looked at the emaciated child and shed tears. Shujie was only skin and bones and she hardly grew during the two years of persecution. She had hard time to sleep and eat. Her parents had to take her to a hospital for help.
On July 11, 2002, Shujie's parents took her to the prestigious Qilu Hospital. Shujie was found to have a benign fluid bubble on her brain and needed surgery. After the operation, Shujie began convulsing and her body temperature reached 107.6 0F. Four days later, Shujie stopped breathing and died.
If this were not the era of persecution, young Shujie would not leave us so early. Criminal Jiang Zemin and the "610 Office" will be eventually brought to the public trial of law, human conscience and morality.
Phone numbers of Laiwu City government:
Laiwu City government
Address: No 001 North Wenhua Road
Phone: 86-634- 6214818, 86-634-6213091
Politics and Judicial Committee of Laiwu City government: 86-634-6213034
Secretary: 86-634-6223996, 86-634-6222399
Public hotline of city mayor (disciplinary inspection section): 86-634-6213902
City Police Department: East Wenyuan Street
Phone (switchboard): 86-634-6212461
Website: Http://www.lwgongan.gov.cn
City Party Committee: 86-634-6213021
Address: No 001 North Wenhua Road
Phone: 86-634-6114187
Laicheng District People's Government
Address: No. 148 West Fengcheng Street
Phone: 86-634-6114187
District politics and judicial committee (610 office): 86-634-6114453
Laicheng District Police Department: 86-634-6227184, 86-634-6213415
Guansi Police Station: 86-634-5966006
Miaoshan Town Party Committee: 86-634-6441213
Miaoshan Town Police Station: 86-634-6441247