World Daily: Philadelphia Practitioners Hold Concert to Celebrate World Falun Dafa Day (Photo)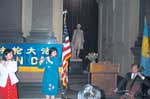 Falun Gong practitioners (from right to left) Chen Rutang, Chen Ningfang and their daughter Chen Ying play instrumental ensemble at Conversation Hall in Philadelphia's City Hall to celebrate World Falun Dafa Day
(Clearwisdom.net May 23, 2003) The World Daily May 16 report in Philadelphia: Greater Philadelphia Area Falun Gong practitioners held a concert at Conversation Hall in the City Hall to celebrate the Fourth Annual World Falun Dafa Day. More than 50 celebrities, including government officials from Philadelphia and other parts of Pennsylvania attended. A peaceful and harmonious atmosphere pervaded the celebration.
In his speech, Professor Zhou Shiyu from Rutgers University of New Jersey expressed thanks to Philadelphia's Mayor and different levels of governments as well as the US Congress for their support of Falun Gong. He emphasized that Falun Gong is a health-promoting exercise, but it has been subjected to brutal persecution in China, where hundreds of thousands of practitioners have been persecuted.
He hoped that in today's global village, with the concern of people from all over the world, that Falun Gong would continue to make great contributions to humanity. Physician Yang Jingduan from Jefferson University Hospital in Philadelphia shared his four-years' experience of practicing Falun Gong, and his experiences with colleagues and patients in the hospital who practiced Falun Gong and obtained great benefits from it. He hoped that the tragic ordeal of his elder sister Yang Jingfang, who is in Anhui Province and has been detained multiple times due to practicing Falun Gong, will not be repeated.
Attending guests, including Flavia M. Colgan, assistant to Pennsylvania Deputy Governor Catherine Baker Knoll, Dr. Nancy Morgan, special assistant to Philadelphia's Mayor and City Councilman David Cohen, praised the contributions of Falun Gong in their speeches.